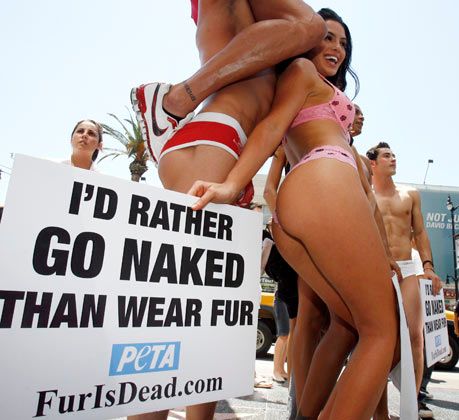 We all know us feminists just love to hate PETA. Their shock-and-awe campaigns are among the most racist, offensive and completely unrelated to their actual cause of perhaps any "advocacy" organization that exists. (I say "advocacy" in quotes because I think their self-identification as one that actually promotes animal rights advocacy is a joke.)
Anyway, perhaps the most popular of offenses that PETA loves to capitalize on is the objectification of women; between strip-teasing quizzes to body scans to naked lady celebrities, there is no sexist cliche too tacky for these folks. And now, they've gone as far as they could possibly go in this area – by planning to create their own pornographic website.
Lindsay is right to predict this may just be one of their gimmicks and the site may actually not be built at all — but I really, really hope they do. They'll lose the remainder of little respect they have left by the general public (and most public endorsements by high profile individuals to boot). It's not like sex-hating is okay either, but come on — it's about time their tired antics be put to bed already.