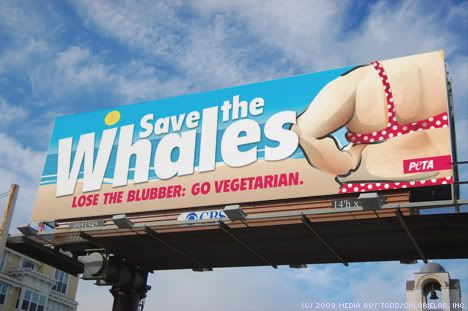 I know I shouldn't be surprised by PETA's latest billboard campaign in Florida – after all, their brand of activism has proven to be sexist and racist time and time again – why not fat-shaming to boot? (Part of me hates posting this at all because it does just give PETA the attention that they want. But I just had to.)
From PETA's press release on the billboard:
A new PETA billboard campaign that was just launched in Jacksonville reminds people who are struggling to lose weight — and who want to have enough energy to chase a beach ball — that going vegetarian can be an effective way to shed those extra pounds that keep them from looking good in a bikini. The ad shows a woman whose "blubber" is spilling over the sides of her swimsuit bottom…
Anyone wishing to achieve a hot "beach bod" is reminded that studies show that vegetarians are, on average, about 10 to 20 pounds lighter than meat-eaters…
"Trying to hide your thunder thighs and balloon belly is no day at the beach," says PETA Executive Vice President Tracy Reiman. (Emphasis mine)
Seriously? This shit is just shameful. Consider this woman's reaction after seeing the billboard:
I was planning on taking [my family] to the beach to enjoy the beautiful day when I saw a billboard that made me want to cry.
…We all sat there and stared at it for a minute and everyone in the car was silent. No one wanted to mention my weight. I laughed it off as usual, but it really had made me so embarrassed, so self conscious and so ashamed about my weight that I dropped off my family at the oceanfront and left to go home, making the excuse that I wasn't feeling well.
I'm with Holly at Deceiver: PETA owes the residents of Jacksonville a serious apology.
Related posts: Sometimes there are no words
Quick Hit: PETA's Ad Banned from the Super Bowl
PETA: Cause objectifying women never gets old
When you thought PETA couldn't get worse.
PETA does it again
Same old shit from PETA