I've written about my personal complicated feelings on the fashion industry. What it boils down to: I'm still figuring out how much time and money I personally feel comfortable investing in how I look. That being said, I'm certainly not one to tell someone else what they can or can't wear in the name of feminism.  So with apologies to all the haters chomping at the bit to use fashion-policing as an excuse not to identify as feminist, you're not quite off the hook yet:  there are undoubtedly ways to be fashionable and feminist. But freedom of personal choice is one thing; conflating  consumerism with feminism is quite another. Here are three recent beauty products/trends that claim to enable feminism but are really just about peddling (again, not necessarily a bad thing unless it's done in the name of feminism).
Removable heels
A designer named Tanya Heath has invented a "feminist high heel". From the NY Daily News:
Tanya Heath is on a double mission: to prove women can wear heels without ruining their feet, and that her answer to their plight, a heel that switches from high to low, can be made entirely in France.

The Paris-based Canadian started with a simple idea. When your shoes start to hurt — half way through a party, a wedding or a workday — press a button in the sole, slot out your dressy high heel and replace it with a walking version.

"I'm a feminine feminist," is how the 42-year-old sums up her philosophy. "My shoe is designed to be sexy — but on the woman's terms.
These shoes sound kinda cool, I'm not gonna lie! But a stand-in for feminism they are not. Wearing comfortable shoes can be a form of self love, which certainly passes my feminism test. But throwing down $350 on a shoe innovation is hardly a pre-requisite for finding some shoes that make you feel sexy without feeling literal physical pain.
Bic pens for her
This was a big news story last month when Amazon customers "went rogue" in the product reviews section of the new "Bic for Her" pens for Girly Ladies Who Write Good. But since it popped up in my Gmail this morning as a "recommended product" I figured it might be worth it to reiterate: there are ways to express your feminism in writing (hint: I'm working on it right now!) but buying a lady-pen ain't one of 'em!
Male makeup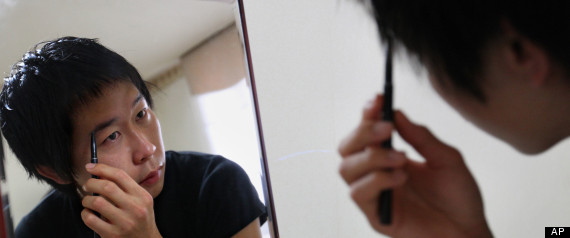 Apparently male makeup is becoming all the rage in South Korea.
From the Huffington Post:
""Having a clean, neat face makes you look sophisticated and creates an image that you can handle yourself well," the 24-year-old college student said. "Your appearance matters, so when I wear makeup on special occasions, it makes me more confident."

Cho's meticulous efforts to paint the perfect face are not unusual in South Korea. This socially conservative, male-dominated country, with a mandatory two-year military conscription for men, has become the male makeup capital of the world.

South Korean men spent $495.5 million on skincare last year, accounting for nearly 21 percent of global sales, according to global market research firm Euromonitor International. That makes it the largest market for men's skincare in the world, even though there are only about 19 million men in South Korea. Amorepacific, South Korea's biggest cosmetics company, estimates the total sales of men's cosmetics in South Korea this year will be more than $885 million." [Emphasis mine.]
Of course I'm all for men wearing makeup if they want to. (Most assaults to the conventional gender binary appeal to me!) But makeup is big business. It's hard to discern between individual acts of gender norm defiance and self empowerment, and the multibillion dollar global business model behind it that feeds off of our insecurities and perceived imperfections. It shouldn't be too much to ask that we not conflate one for the other.