Two undeniably fashionable beings, looking fierce and frankly, divine. via Instaboner, via Le Coil.
Our very own Courtney Martin has famously described her feminist "click" moment, the moment she knew she was a feminist, as the day she saw Amy Richards and Jennifer Baumgardner give a talk on their new book Manifesta: Young Women, Feminism, and the Future. Courtney writes, "Amy was plucky and compact, smart without an ounce of pretension, a no-nonsense beauty. Jennifer was her opposite — long and sinewy, bright blond, and yes, wearing fishnet stockings."
Courtney's taken some flack for this comment, perhaps most notably from Susan Faludi's much-discussed piece on "Feminism's Ritual Matricide" in which Faludi criticizes Martin for baiting a generational war with her comments on young women's emphasis on fashion.
But I think Courtney, as usual, is simply articulating an important if nuanced point about the way that people view each other, the world, and modern political movements.
That being said, I'm still trying to figure out my own stance on fashion.
To what extent, and why, does fashion matter to me?
I just can't decide.
I mean, I like looking good. We all do, right! And I get that feeling, a mixture of awe, envy, and props- you know the one- when I see fly outfits being rocked by clearly fashion forward people. I like the idea of loving myself enough to take care of myself, groom myself, and present my best face to the world every day. And I tend to feel better when I'm wearing an outfit I really like. Moving to New York has given me an even greater appreciation for these things, because the women here are just. so. fly.
But I also feel silly spending any amount of serious dough on trendy clothes, when I know that money could go farther and do more if spent in other ways. And it's not just about the money. I reject the idea that others should get to judge me based on what I'm wearing. I am, after all, a card-carrying Serious Feminist. I say Serious Things, and I make Serious Points. Perhaps more to the point, I'm smart, confident, I have something to say. Do I really need to be wearing APC jeans to get some freakin' respect around here?
This isn't about making anyone feel guilty for liking nice clothes, or even consumerism more generally. It's about trying to be conscious about the kind of person I am now and the kind of person I'd like to be. It's about staying true to myself. It's about letting myself derive pleasure from things that are aesthetically appealing, while rejecting the culture of superficiality that often characterizes communities that value said aesthetics. It is about pleasure for pleasure's sake in a world where pleasure feels like a privilege. It's about acknowledging the ways in which aesthetics matter, and the ways in which they don't, and the ways in which they currently do but probably shouldn't, and the ways in which they currently don't but ideally would.
If that sounds vague, it's because I don't have any answers yet. I still get thrilled and impressed by bold, lovely, and often expensive fashion. And I still feel like I'm a person of worth, whether I'm wearing vintage Chanel or "vintage" sweatpants. But I can't seem to reconcile these two (competing?) impulses; on the one hand, a value in "art for art's sake, beauty, style, and other intangibles; on the other, an investment in valuing substance over style, actions over appearances, and real justice over flamboyant showmanship.
I think my dilemma is summed up well by a recent occurrence. Vivienne Westwood, a well-known luxury fashion designer, decided it would be a great idea to make the theme of her fall 2010 menswear show "homeless-chic". This concept, seemingly straight out of the upcoming Zoolander sequel (!), translated into matted hair, patchy, stained clothes, and raggedy-looking fur. Westwood was quoted as saying ""If I were homeless, I would steal a bike and visit all the art galleries. Through culture homeless people can also participate in society. In London the museums have free admission, so they can be shelters for the homeless."
Of course, this was a quite out of touch, over-privileged, and insultingly ridiculous thing to do and say. But was it not also true to her reality, and her vision?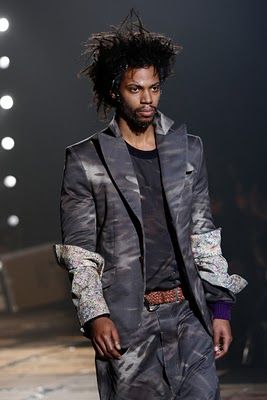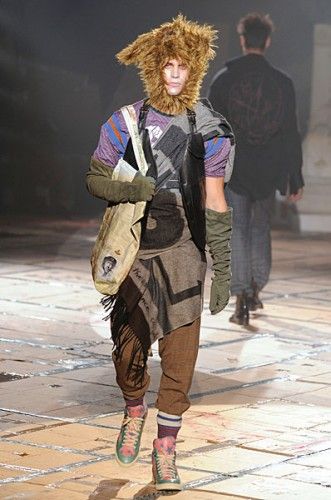 Let's bring it back to Courtney, because I'm obviously not the first person to think about these things, and she seems to have asked herself similar questions, with a more conclusive result. Of her feminist "click" moment, she writes:
"To this day, I ask myself, why did it matter so much? Why did I care so much that feminism look like me, talk like me, walk like me? Why did appearance have anything to do with it? It feels as if, even by acknowledging this, I'm siding with the enemy; responding to Amy and Jen's style rather than their theories is like catcalling my own feminist big sisters. But it's the truth. And for all of its seeming frivolity, I think it's an important one."
She goes on:
Movements, whether we like it or not, are visceral experiences. Feminism is no exception. If we want to bring more young women into the fold, especially given how vilified feminism is in the mainstream media, we can't pretend that aesthetics are irrelevant. I'm not saying that we have to conform to traditional beauty standards. But manifesting a personal style — hairy armpits or fishnets, genderqueer or definitively feminine, hip-hop or hipster — doesn't hurt the cause.
Well said. While I'll continue to wrestle with this, perhaps Courtney is onto something: getting in touch with your own personal style and presenting it to the world as an extension of yourself seems like a righteous form of self-love, and therefore perhaps a feminist act of the highest value.