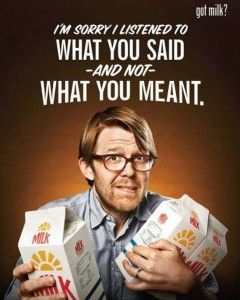 After pretty massive outcry in the land of new media, The recent tired, offensive ad campaign for milk about how PMS sucks for men because it makes women total bitcas has been pulled.
As Lori explained when she covered the ads:
The ad campaign is conveniently called the "Everything I Do Is Wrong" campaign (hey, they named it, not me) and in it, the California Milk Processor Board plays off sexist and stereotypical tropes about women being irrational hysterical hormone-driven beings and men being meek, silly, fearful creatures subject to the period-filled whims of their "better halves".
In a pretty clear example of how new media's taken control of the ad campaign, the original website everythingidoiswrong.org has been replaced with gotdiscussion.org, which links to some of the web commentary. The site includes a half-assed apology which reads in part:

Over the past couple of weeks, regrettably, some people found our campaign about milk and PMS to be outrageous and misguided – and we apologize to those we offended.

Others thought it funny and educational.

It has opened up a topic that affects women, of course, but also relationships.
Nice try dairy juice pushers, but that "also relationships" thing? You're kinda missing the point.
In any case, this is another win for the feminist internets, which is building up quite a track record of impacting how products are sold to us.