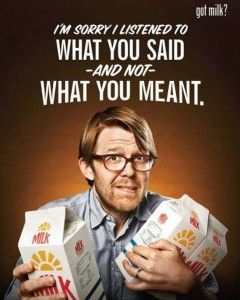 Hey yall, so it looks like I'm the resident nutritionist blogger for the day.
I'm not stepping into this new role without cause.
You see, Milk the Brand has come up with this totally novel concept for its new ad campaign. It's about how scary the LadyRage aka PMS is for guys. I mean, how ORIGINAL is that!? Clearly no one has EVER in the history of advertising talked about how sucky PMS is for guys.
The ad campaign is conveniently called the "Everything I Do Is Wrong" campaign (hey, they named it, not me) and in it, the California Milk Processor Board plays off sexist and stereotypical tropes about women being irrational hysterical hormone-driven beings and men being meek, silly, fearful creatures subject to the period-filled whims of their "better halves".
If you feel like getting your blood pressure boiling, you can watch one of the ads below.
The website manages to be more offensive than the ads, if you can believe it, charting "current global PMS levels" and advising that instead of "irrational", men try "passionate", presumably when finding ways to label their LadyFriends that will ingratiate them fo life [/snark /snark /snark].
Lots of smart people have written about why these are bad — plus, it's sort of self-explanatory.
So at this point, I'm more interested in the claim itself: that calcium, and more specifically milk, reduces the symptoms of PMS. How to take some good from this situation and get our health on, without feeding the trolls and giving any money at all to this sexist shitshow of an ad campaign? Thus, the resident nutritional blogger presents to you, 5 ways to do just that.
First of all, it should be stated that the milk campaign isn't clear about which study they are using as the basis for their claims. There's a link at the bottom of the website "to get more information about health benefits", but it just returns you to the homepage the campaign website.
That being said, there does seem to be evidence that their claims (which notably point to the benefits of calcium, not milk) hold weight. According to the Internet, recent studies show that women who took 500-milligram calcium supplements twice a day for three months had "significantly lower levels of fatigue, appetite changes, and depression than women taking a placebo. Another showed that getting 1,200 mg of calcium a day helped reduce emotional and physical PMS symptoms."
So it seems like calcium, and not milk exclusively or explicitly, is at the center of this women's health claim. Milk is a good source of calcium, but it's hardly the only one. Plus, let's face it, it's kinda icky. The thought of drinking something that came out of a cow's udder is, well, not totally appealing to me. So here are five ways to get calcium/beat PMS that don't involve milk.
Eat other kinds of dairy products, like yogurt and cheese (mozzarella is particularly high in calcium). Yogurt's got its own PR problems, but at least it's targeted towards women and not going for the "douchiest ad of the century" award.
Consume whole small fish such as sardines. Pack it in, ladies, pack it in.
Get in on those leafy green vegetables, like spinach. Lots of people think you need to eat dairy or at least be non-vegan to get enough calcium, but this simply isn't true. There are lots of veggies, particularly leafy green ones, that are high in calcium
Eat tofu! Hey vegans, this one's for you — 4 oz of tofu can have 100 mg of calcium in it.
Try natural remedies for PMS, including vitamin E, vitamin B6, magnesium, and chasteberry.
Sure, some may seem "off the beaten path", but hey, I'll add some spice to my diet to avoid supporting sexist ad campaigns that throw me under the bus.