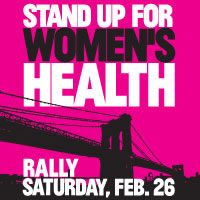 As infuriating as the Pence Amendment is, and as awesome as the rallying it's inspired is, I wish folks would talk more about the greater legislative process at hand.
The fact is that before the bill can become law, the Senate has to pass its own version of the bill, and then the House and Senate need to reconcile their separate versions. And THEN the reconciled version needs to be signed into law by President Obama. The Democrat-controlled Senate will most reject any effort to de-fund Planned Parenthood, and even if a messed up bill somehow manages to make it to President Obama's desk (unlikely), he recently announced that he would veto a GOP budget anyway.
Which means that Planned Parenthood really isn't in any real imminent danger of losing its federal funding.
Why isn't this being talked about more? We can be realistic about the primarily symbolic effects of this legislation without downplaying its severity.
We are certainly all justified in rallying to defend Planned Parenthood's funding. But we should also be proactive enough to realize that money isn't the only thing at stake here, or even the most serious. The GOP campaign against Planned Parenthood has already inflicted damage that can't be repaired by repealing a measure or restoring a budget (two things that will almost certainly happen).
As I pointed out in a recent article for The Grio, measures like the Pence Amendment do more than threaten one organization's funding; they also work to stigmatize and defame Planned Parenthood and reproductive health services. They manage to "other" reproductive health services by distinguishing them from other kinds of health care, creating a culture of fear and anxiety around things as straightforward and routine as pap smears and cancer screenings. This, in turn, makes it more difficult for women, men, and young people to speak up about their health care needs for fear of experiencing backlash.
In short, more than an attempt at "fiscal restraint", the GOP attack on Planned Parenthood is an act of shameful political theater meant to create shame and embarrassment around issues of reproductive health- and the more we treat it as just a budget issue, the more we enable their cultural war.
Just my two cents..errr…in keeping with the de-emphasis on cash, my "cultural currency contribution".
Also, for a bit more perspective on these recent events, check out this awesome piece by Rinku Sen. A lot of radical folks have been talking about their skepticism with Planned Parenthood and she does a great job breaking that down.