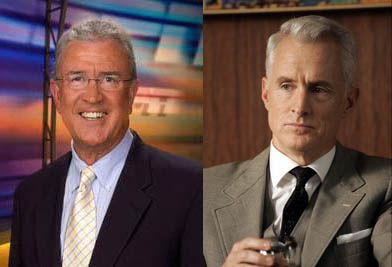 Someone's been watching too much Mad Men
Via The Frisky comes word that ESPN football announcer Ron Franklin was pulled from Saturday's radio broadcast of the Fiesta Bowl after calling sideline reporter Jeannine Edwards "sweetcakes" in a meeting.
Yeah, seriously, "sweetcakes." Ron Franklin likes his sexism old school.
The insult came after Edwards tried to join a conversation Franklin was having with another announcer. From the blog sportsbybrooks.com:
When [Edwards tried to join the conversation], Franklin said to her, "Why don't you leave this to the boys, sweetcakes."

Edwards responded to Franklin by saying, "don't call me sweetcakes, I don't like being talked to like that."
When Edwards called Franklin out on his language he responded, "Okay then, asshole." Because he is so very clever.
Apparently Franklin has a history of demeaning female colleagues. In 2005 he called sideline reporter Holly Rowe "sweetheart" while trying to undermine her commentary.
I'm glad to see a sports network respond to sexism in the workplace, especially sexist comments that didn't actually make it on air. And I'm curious to see how serious the penalty against Franklin will be. Will he just be kept off one radio broadcast, or will he face a harsher penalty for apparently thinking he works in the offices of Sterling Cooper Draper Pryce?