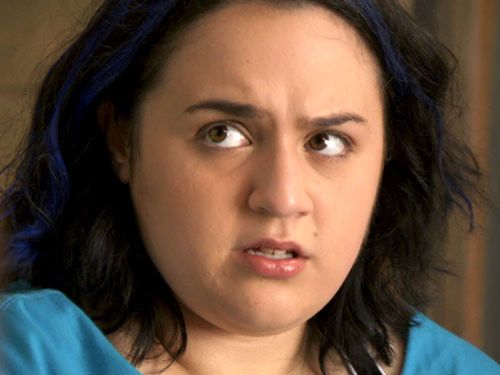 This photo is a fair representation of how I'm feeling about ABC Family's announcement that it has canceled Huge, the teen drama set at a weight loss camp that surpassed my cautiously high expectations. The network has announced that the show, which stars Nikki Blonsky and a cast of unknowns as teens struggling with all the things teenagers usually struggle with, because being fat doesn't make you any less of a human being, will not be returning for a second season. Which breaks my heart, because Huge, while it wasn't perfect, broke some important barriers. As Dodai Stewart at Jezebel writes, there are no spaces on television where fat people are allowed to just be people who happen to be fat, especially on scripted shows:
There are plenty of fat people on TV: the folks on The Biggest Loser, Dance Your Ass Off, Too Fat For 15. But reality shows which focus on weight loss are not enough. Entertainment comes in so many different forms: police dramas, hospital shows, teen soaps, spy thrillers… and overweight characters are few and far between. On new sitcom Mike & Molly, two fat people meet at an Overeaters Anonymous meeting, and instead of exploring the highs and lows of human relationships, it's just a bunch of fat jokes. Example: Embracing Mike is "like hugging a futon." Fat people can be on a non-scripted show, as long as fat is the punchline.
So the wonderful Ms. Stewart has started a petition to save Huge, which you can sign here. Even if you didn't watch the show, take a moment to read this interview with its co-creator, Savannah Dooley, a woman who just gets it. And then go sign the petition, because we need more unapologetically fat people on television, and we need want feminists writing their lines for them.