So by now you've heard that First Lady Michelle Obama has a somewhat different strategy for dealing with hecklers than President Obama.
This week at a DNC fundraiser in D.C., Ellen Sturtz of GetEqual interrupted the First Lady's speech yelling out demands for the president to keep his promise and sign an executive order banning federal contractors from discriminating based on sexual orientation and gender identity. A valid critique, to be sure, but the yelling was off putting to the First Lady and her allies, and the way she handled it has been analyzed ad nauseum.
I fiercely defended the First Lady's response to the heckler and have since seen her reaction as instructive. The First Lady was simply putting Ms. Sturtz and the rest of us on notice that she demands respect and has no patience for rudeness. And who could blame her. Disrespect of the Obamas is nothing new and to understand why so many Americans are fed up, lets start at the beginning.
She was an incredible surrogate and supporter during the 2008 election cycle, but when she did this conservatives lamented the motion as a "terrorist fist jab."

Then she said something about loving her country and suddenly she was fair game for attack. And someone thought it would be a good idea to put her on the cover of The New Yorker like this,  beginning the meme that Michelle Obama is a stereotypical "angry black woman":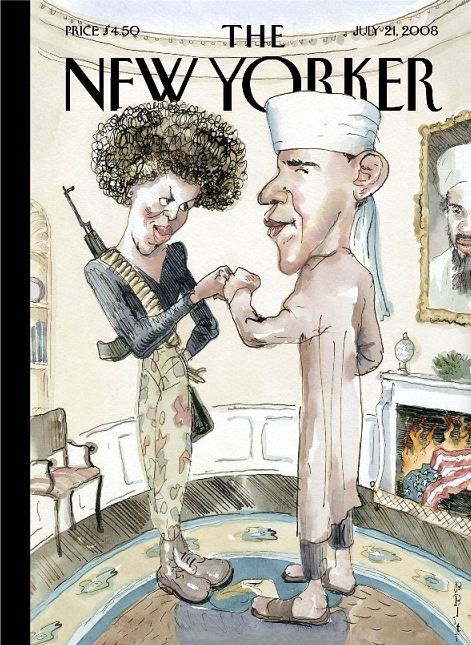 And then even after her husband won in 2008, conservatives demanded to see his birth certificate and tried to cast President Obama as illegitimate. Republican leadership in Congress blocked all legislative progress and continually failed to call out the birthers, and FLOTUS is like:

And while conservatives weren't busy bashing Obama for being a socialist dictator, they were calling FLOTUS authoritarian for wanting kids to exercise and eat vegetables. And FLOTUS is like:

And despite millions of dollars being spent to smear her husband, President Obama is re-elected to a second term in 2012. Only a few months into Obama's second term, FLOTUS is in a celebratory mood and appears to have taken some time to improve upon her Dougie.

Which is really great because this wasn't really quite right.

And so this week, after years of her husband being cast as illegitimate, and being attacked for being an angry "uppity" black woman, FLOTUS is interrupted at a fundraiser during an impassioned plea for progressives coming together next year to vote in the midterm elections for the betterment of our children's lives.
And so everyone's like:

And FLOTUS leaves the podium like:

Then FLOTUS walks up to Ms. Sturtz and says, "One of the things I don't do well is this. [L]isten to me or you can take the mic, but I'm leaving." And when the crowd applauded, showing that they were going to respect her and that they wanted her to continue, FLOTUS is like: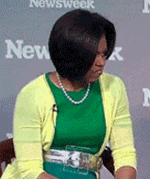 We could all learn a thing or two from FLOTUS. Demand respect, enforce your standards, and have a good time.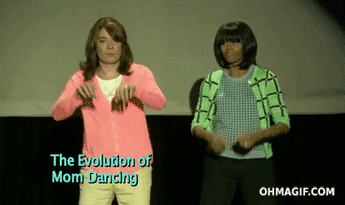 "You teach people how to treat you by what you allow, what you stop, and what you reinforce." – Tony Gaskins