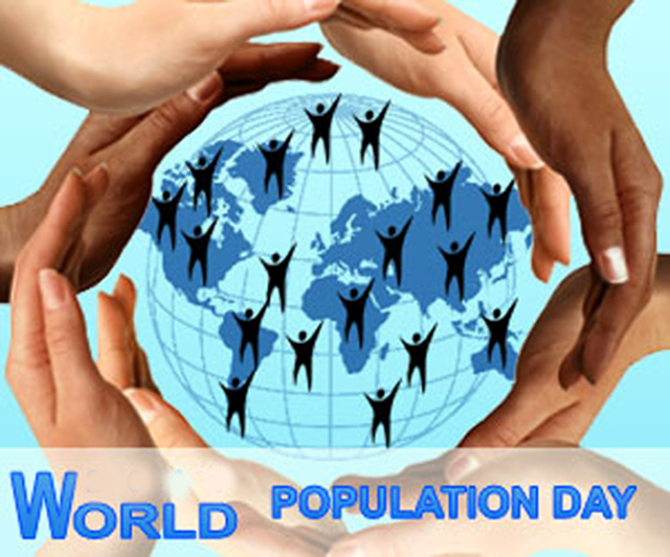 Friends, today is World Population Day. According to the UN, World Population Day is observed every July 11th to "reaffirm the human right to plan for a family" and to encourage "activities, events and information to help make this right a reality throughout the world."
I work within the UN system and these kinds of thematically-focused "days" are incredibly common: there's International Women's Day;  World Radio Day; and even a "Day of the Girl-Child".
But this year, I've noticed a higher-than-usual level of interest in World Population Day due to the high profile London Summit on Family Planning, put on by the Gates Foundation and the UK government. You can read more about the Summit and its outcomes in the press release here, but the basic gist is that a TON of people and organizations- from philanthropists and foundations to governments and the private sector- came together to pledge over $2.6 billion dollars to reach an additional 120 million women and girls in the world's poorest countries with voluntary family planning by 2020. Whatever you think of the Gates Foundation or their methods and motivations in planning the Summit, I think we can all agree that these pledges represent a huge step forward for the world's women. And today is just the beginning. Applauding the pledges made towards family planning is one way to celebrate this year's World Population Day, but it's not the only way. Here are five more ways to celebrate the occasion!
5) Don't panic.
We've pointed out before that coverage of global issues related to population, health, and development can easily take on an alarmist tone. But we need solutions, not scare tactics, to fully celebrate and cope with the planet's growing population projections, the latest of which predict a planet of nine billion by the middle of this century. Celebrate World Population Day by resisting the fear-mongering and battling it with facts and ideas.
4) Access your family planning method of choice, or support the ability of others to do so.
Birth control is a big deal, y'all. Recent studies show a clear link between meeting unmet need for contraception and reducing maternal mortality, which a) duh and b) means there's a direct connection between accessing birth control when you want to and making the planet healthier. Not on birth control but want to be? Celebrate World Population Day by finding the option that's right for you, and follow through! Already on birth control but looking for a good excuse to back it up? Find information about efficacy and availability on the National Institute for Reproductive Health's EC site. Don't want to be on birth control, maybe because you aren't sexually active or just prefer not to be? Celebrate today by exercising your right to make the best decision about your body, and/or help someone in your life access the birth control they want.
3) Turn out the damn lights!
Population issues are intimately related to global sustainability, energy access, and climate change. Today, celebrate World Population Day by doing your part to be a responsible global citizen when it comes to energy and resource consumption. Turn off those lights when you leave the house, keep a/c usage to a minimum, and consider making a donation to the Global Alliance for Clean Cookstoves, which works to empower women, and combat climate change by creating a thriving global market for clean and efficient household cooking solutions.
2) Masturbate and/or love yourself.
Do you really need a reason for this?
Ok but seriously, the world is growing, but until you decide to contribute to that growth by havin' yourself some offspring, some risk-free self lovin' is a great way to celebrate the day!
1) Pass it on.
Sometimes the most important thing we can do is tell the people in our lives how and why we feel strongly about issues, and to encourage them to spread the word. So tell someone in your family, office, or friend circle why you care about a rights-based approach to World Population Day. Make sure that teenager in your life has access to comprehensive sexuality education so they are well-informed enough to make decisions about their own lives and relationships. And spread the news that today is not just another UN holiday!