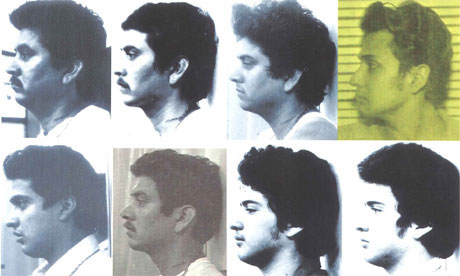 I am vehemently, philosophically opposed to the death penalty. Even if our criminal justice system were not racist, classist, and unfair, I'd be against the death penalty. Even if we somehow had a way to ensure that we only executed people we knew were guilty, I'd be against it.
But I respect the position of people who are for the death penalty in theory, but realize that the way it is implemented calls for, at least, a moratorium on capital punishment. Today, it is impossible to support the death penalty in the United States without tacitly supporting the execution of innocent people. You can try to defend the death penalty and convince yourself that it doesn't kill innocent people, but you would be wrong. A recently-released Columbia Law School study details how Texas killed Carlos DeLuna, when the actual Culprit was Carlos Hernandez, who shared a first name and a striking resemblance with De Luna. Texas, don't be so hard on yourself. A simple mistake, that only resulted in the state sanctioned and funded murder of an innocent person, who, not only proclaimed his actual innocence, but pointed the police to Hernandez. But, whatever, who can keep up with all the Carloses?
If you believe in the death penalty, you'll probably try to convince yourself that this was an isolated incident. First of all, I think the execution of one innocent person should be enough to keep you from sleeping at night. But more to the point, you'd– again– be wrong. Recently, a judge was convinced by "overwhelming, credible and reliable evidence" that Cameron Todd Willingham, executed in 2004, had been wrongly convicted. He was going to issue an order posthumously exonerating Willingham, when a state appeals court blocked him from doing so. So, that makes two innocent people killed. But there are more.
The execution of innocents happens more than we'll ever know because when people are killed, they can't prove their case. Lawyers and organizations trying to exonerate people don't have the luxury, time or money to proof the innocence of an-already-executed person, when they barely have the resources to proof the innocence of someone they can actually save. And a scary new study on exonerations of people falsely convicted of crimes demonstrates how commonplace faulty convictions are. The National Registry of Exonerations, a joint project of the University of the Michigan Law School and the Center on Wrongful Convictions at Northwestern University School of Law, documents 891 that have taken place since January 1989. But we only know about these cases of wrongful conviction because they were ultimately overturned. How many more innocent people are still behind bars, have died in jail, or been executed? Many more, as the study explains:
There is no way to estimate the overall number of false convictions from these reported exonerations, but it is clear that there are many more false convictions than exonerations. The exonerations that we know about are: overwhelmingly rape and murder cases in which defendants went to trial rather than plead guilty and received very severe punishments, especially death sentences. They are also: concentrated in several states and a small number of counties; disproportionately likely among the small fraction of criminal cases in which DNA evidence can prove guilt or innocence, and often the result of unpredictable and improbable lucky breaks. Obviously there are many more false convictions among cases that don't fit that description, and that didn't end in exoneration: lesser crimes than rape or murder; defendants who pled guilty and received comparatively mild punishments; cases in states and counties with few exonerations or none; cases without DNA evidence; defendants who were just unlucky.

There are also many exonerations that we don't know about.  There is no official record keeping system for exonerations, and no systematic way to locate them. High profile exonerations – capital cases, other murder and rape cases that are handled those by innocence projects – receive a great deal of publicity and are easy to find. Although we have found a substantial number of low profile exonerations, many came to our attention only because they were handled by lawyers we happen to know. Many of these low-profile exonerations were handled exclusively by local attorneys; some were initiated by prosecutors or police; some were passively or actively concealed from public attention.

We have no doubt that we have missed the vast majority of low-visibility exonerations.
The study does show that 101 of those exonerated had been sentenced to death. But how many more never had the chance to be exonerated? How many more have we already killed.