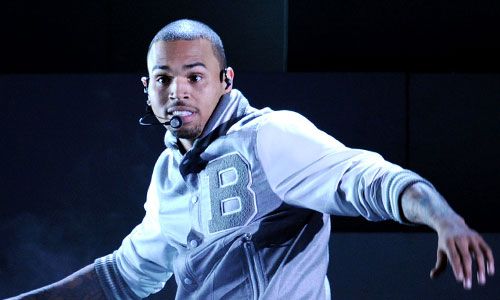 The 2012 Grammys had some wonderful moments. Jennifer Hudson performing "I Will Always Love You" as a tribute to the late Whitney Houston had me tearing up. Adele had her glorious and well-deserved moment in the spotlight (her performance of "Rolling in the Deep" was amazing and her acceptance speech for Album of the Year was particularly adorable).  Robyn wore this.
But my entire Grammy's experience was marred by the fact that Chris Brown was allowed not only to attend, but perform at the Grammys just three years after a  publicly known domestic violence incident.
It is absolutely unacceptable that someone who is known to have perpetuated violence against a woman has been so uncritically welcomed and promoted by the music industry.
In a much-shared piece "I'm Not OK With Chris Brown Performing at the Grammys, and I'm Not Sure Why You Are," Sasha Pasulka reminds us what exactly Chris Brown did to warrant our criticism, and what's exactly at stake if we fail to hold him accountable for his actions:
"I'm sick and tired of people acting like it's no big deal that Chris Brown will be performing at the Grammys.

I'm frustrated that the mainstream media is covering this story like it's any comeback story, like an exiled prince's return to a former glory, like this is another political timeline — as though some rich and powerful old white men in the music business have not just issued an enormous 'f**k you' to every woman who has been, is or will be on the receiving end of domestic violence.

We should be furious.

Why aren't we?

…

The message we sent to young women was unmistakable: You are powerless. You are worthless. You will be a victim, and that will be okay with us. [Emphasis mine.]
This disturbing piece on Buzzfeed shows the ramifications of our collective failure to take perpetrators to task: women (not one or two but many) literally declaring their willingness to be beaten by the star as a means of expressing their love for him. It doesn't get more clear than that.