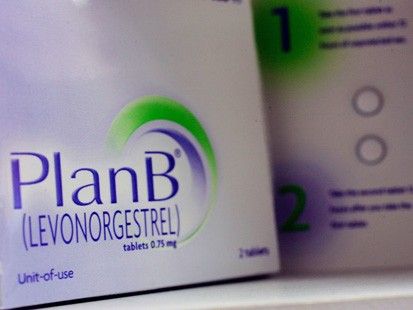 Via our very own Jessica Valenti comes the news that the Food and Drug Administration is expected to announce tomorrow that it will approve making Plan B (the brand name for emergency contraception or the morning after pill) available for purchase on drugstore shelves.  I think I join a lot of my colleagues in the reproductive justice community in saying that we're all waiting with bated breath to make sure this optimistic prediction comes true!
From Jess:
The President & CEO of Reproductive Health Technologies Project says "While FDA has toyed with women's health before, all signs point to them doing the right thing at last and letting the science dictate their policy decisions." I'm pretty damn optimistic too.
Jess goes on to give a refresher course on the history of FDA rulings on Plan B (you can also find this info in The Purity Myth) and what we can expect if Plan B becomes available on drugstore shelves:
As you may remember, the concerns the FDA cited over emergency contraception were not about women's health or the safety of efficacy of the drug. Instead, they were worried about young women getting all slutty. Dr. W. David Hager, one of the FDA committee members who voted against EC's over-the-counter approval and a key player in making sure Plan B got held up, told The New York Times: "What we heard today was frequently about individuals who did not want to take responsibility for their actions and wanted a medication to relieve those consequences." Some things to keep in mind about Hager: in suggested in a book he wrote that women could cure PMS with prayer, and his wife accused him of rape. So yeah, a bit scary that he was in charge of women's health.

It later came to light that FDA medical official Janet Woodcock wrote in an internal memo that over-the-counter status for Plan B could cause "extreme promiscuous behaviors such as the medication taking on an 'urban legend' status that would lead adolescents to form sex-based cults centered around the use of Plan B." It has Lifetime Original Movie written all over it. Of course this but-it-will-make-girls-slutty argument is hardly new. It's the same excuse legislators have given when attempting to limit women's access to birth control, and more recently, to the HPV vaccine.

Ultimately, the FDA/EC debacle became a real crisis. In 2005, Susan Wood, director of the Office of Women's Health and assistant commissioner for women's health, resigned in protest. It wasn't until July 2006—after protests were launched and complaints lodged from female legislators and local activists (nine of whom got arrested in front of FDA headquarters), and the Government Accountability Office issued a report about how politicized and "unusual" the process was—did the FDA approve EC for over-the-counter sales.

…

Earlier this year the pharmaceutical company that makes Plan B – Teva – gave the FDA new data showing that anyone, even adolescents, can use the drug safely and effectively without a pharmacist or doctor overseeing them; they asked the FDA to approve Plan B without an age restriction. The review deadline for the FDA is Wednesday – and while there's no guarantee they'll make this deadline, or that they'll do the right thing, reproductive justice folks in the know are feeling optimistic.
Check out the whole post here. And get excited for some emergency awesomeness!