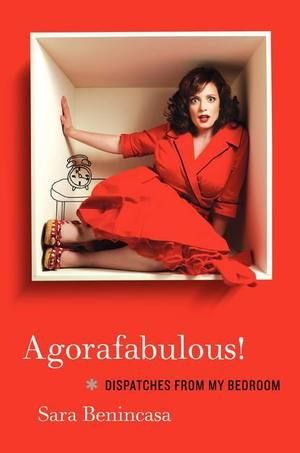 I'm a long time fan of Sara Benincasa, who I interviewed last year. She's a comedian, a sex advice columnist, a feminist, and she does a mean Peggy Olsen impression. She's also a recovering agoraphobic, and her book Agorafabulous! Dispatches From My Bedroom, out in February, is based on her one-woman comedy show of the same title.
The book traces the origins of Benincasa's phobia, which began with increasingly severe panic attacks in her adolescence, and culminated when Benincasa, as an undergraduate, locked herself in her apartment, became afraid to leave her bed, stopped eating, and considered suicide.
These days, Benincasa gets on stage in front of hundreds of people and makes them laugh. But for much of her twenties, she was suffering from, and then learning to manage, a serious mental illness that made getting out of her apartment, let alone getting on to a stage, unimaginable.
When I interviewed Benincasa, she told me the story of how she became a devoted supporter of Planned Parenthood. In her mid-twenties, not long after she moved to New York City, she had a one night stand during which the condom broke. In Agorafabulous! she tells the story in more detail, and it's a poignant and hilarious anecdote. The next morning, she headed to the Manhattan Planned Parenthood clinic as soon as it opened, and as she stepped out of the cab, she was confronted by an anti-choice protestor, an old man who looked like Santa Claus, who screamed "Murderer!" at her. And then, the clinic escorts intervened.
"Oh. My God," came a female voice out of nowhere. "I. Love. Those earrings!"

I turned my head to my left and saw two very pretty, stylish young women grinning at me. They had funky haircuts and perfect eye shadow, and they wore fun boots and skinny jeans. They looked a lot like the gorgeous people I'd seen on the street in the night before in Andrew's cool neighborhood, with one major difference: they were wearing bright orange vests that read ESCORT.

I've never been a morning person, and by that point, my mind had accommodated all the new experiences it could handle. My powers of logic collapsed. Therefore, I came to the natural conclusion that these women were call girls. After all, that's what professional 'escorts' are, right? Seven thirty A.M. on a Saturday, and I'd somehow stumbled into the center of the Venn diagram where sex workers and Bible thumpers overlapped. I had no idea what these high-class hipster hookers were doing wearing identifying vests, as that would seem to invite the attention of the vice squad. Were they that special feminist kind of prostitute, the ones who protested for legalization of the world's oldest trade? This was the East Village; it wasn't out of the question.

"MUUUUUUURRRRRDEEEEEREEEEEER!" yelled Santa.

"They're so fun and dangly and they totally work with your outfit," Escort #1 said, smiling and walking up to me.

"But I feel like, also? They could work with something more formal," Escort #2 said, cocking her head to the side. "Like they could easily go from day to night, like if you had them on at the office you could change and just go to a party at night and you'd be fine."

"I caaaaan't handle how cute they are. Where did you get them?" Escort #1 demanded.

Now, I may have been utterly exhausted. I may have been terribly scared. I may have been carrying three extremely small bastard children. But I was also a young woman who had spent more of her life in suburban New Jersey, where the chief recreational activity is shopping and the most sacred house of worship is the nearest mall. And these whores were speaking my native tongue.

"Target!" I said.

The girls gasped in unison.

"No way!"

"But they look vintage!"

"I know, right?" I said proudly. "Nine ninety-nine. I got them in El Paso!" Suddenly we were walking, as a little group, and I didn't know how that had happened, but I didn't mind, because one of the harlots was telling me about the one-day sales at the new Target in Brooklyn, which apparently were epic and not to be missed.

"But you have to get there by ten A.M., because all the good stuff gets picked over after that," she said. "This is Carlos; he's going to check your bag and take you through the metal detector. We'll see you later; have a good appointment!" Startled, I realized that she and her associate had somehow pried my frozen feet from the curb and walked me ten yards to the entrance of the Planned Parenthood Margaret Sanger Center. At the same moment Carlos the security guard greeted me, I remembered my friends who had volunteered as safety escorts for patients at the local Planned Parenthood in Asheville. As Santa continued shouting in the background, the girls waved and shut the bulletproof-glass door behind me. They were like little feminist helper-elves, relying on their training and their knowledge of retail to get one frightened Jersey girl where she needed to go. And in that moment, I became a Planned Parenthood fan for life.
The book takes a comic view of almost everything Benincasa has been through – including, obviously, the possible unplanned pregnancy she's trying to prevent in this anecdote, and the painful reaction she had to Plan B. It's hard, at times, to read light-hearted accounts of mental illness, and there were moments when I found myself wondering if recovering agoraphobics, anorexics and those who had considered or attempted self-harm would find it jarring to read those experiences recounted in such a flip way.
Then again, as Benincasa observes, comedy equals tragedy plus time. And as the above anecdote demonstrates, there's plenty of tragedy and plenty of time here – which means that Agorafabulous! is laugh-out-loud funny, even as it's taking on deadly serious issues.