On Tuesday, Lori blogged about Jill over at Feministe getting a note from TSA after they found her vibrator during their search of her luggage.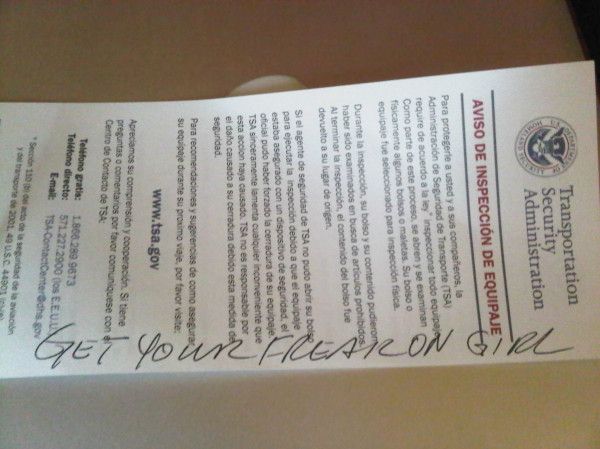 The TSA agent who wrote the note has now been removed from performing further inspections. The TSA put out a statement on its blog saying that, "That individual was immediately removed from screening operations and appropriate disciplinary action has been initiated," the agency said in a message posted on its blog. "The handwritten note was highly inappropriate and unprofessional, and TSA has zero tolerance for this type of behavior."
The note, which said, "Get your freak on girl," while amusing as Jill acknowledged is also very creepy and unprofessional. So it's good that the TSA suspended someone who's job is to protect us from terrorist attacks. I feel really confident in their screening procedures given the judgment of this one individual who felt it proper to write that to a total stranger after going through her personal belongings.
Oh wait….nope. At least this TSA screener wasn't photographed asleep on the job. The TSA really needs to step it's game way up.