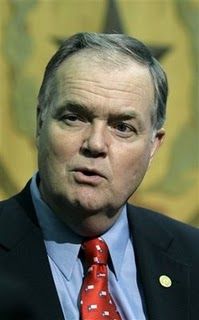 In case you didn't know, reproductive health centers are currently taking a huge hit in Texas, thanks to Rick Perry and the rest of the conservative state legislature.  While funding for family planning centers has been cut by two-thirds this year, a network of crisis pregnancy centers (CPCs) have received a boost of funding by the state. Shocker.
And this is not to mention tons of other abortion restrictions and regulations happening on the legislative front. In the meantime, GOP Rep. Wayne Christian recently was asked about his support for these efforts, and whether they're "a war on birth control." He replied (serious kudos to Tanya at Think Progress for catching this gem):
"Well of course this is a war on birth control and abortions and everything, that's what family planning is supposed to be about,"
I actually have to give the man some props for keeping it real — I mean, if they're going take away health care services for the hundreds of thousands of Texans who rely on the 71 family planning clinics in the state, might as well be straight-up about it. What he did fail to add is how that "everything" part is the primary health care services that so many of their patients use for their annual check-ups. But I guess that's the breaks, right Wayne? Abortion, birth control, high cholesterol testing, thyroid tests, cancer screenings — it's all the same shit.