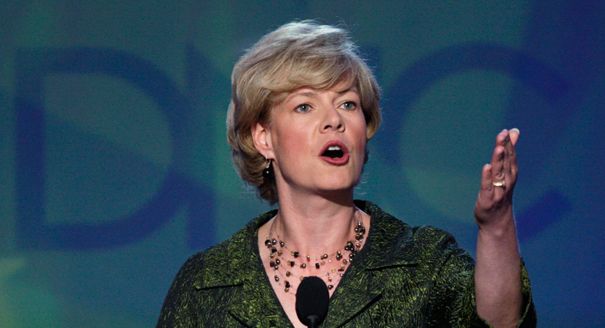 Image credit: Associated Press
Yesterday, Rep. Tammy Baldwin of Wisconsin officially announced that she's running for Senate. If elected, Baldwin, who is currently the only openly lesbian member of Congress, would become the very first openly gay U.S. Senator.
It's yet to been seen how much homophobic bullshit Baldwin will have to deal with during the campaign. But if initial reactions from the Republican side are any indication, it looks like perhaps they'll focus more on Baldwin's evil liberal politics than her evil sexual orientation. Which is pretty much the definition of progress.
The National Republican Senatorial Committee responded to Baldwin's announcement by calling her "an extreme Madison liberal" and "an avowed supporter of job-killing tax hikes, reckless deficit spending, and out-of-control debt."
Similarly, one of her potential Republican opponents, former Congressman Mark Neumann, who has a record of anti-gay comments that he doesn't really like to talk about these days, said simply: "I'm a conservative, she's a liberal — it's that simple."
Thank you, Mr. Neumann. Now let's get that "extreme Madison liberal" into the Senate, where she can stand up for "seniors, working families and the middle class" against "big oil and Wall Street"–and make history in the progress.