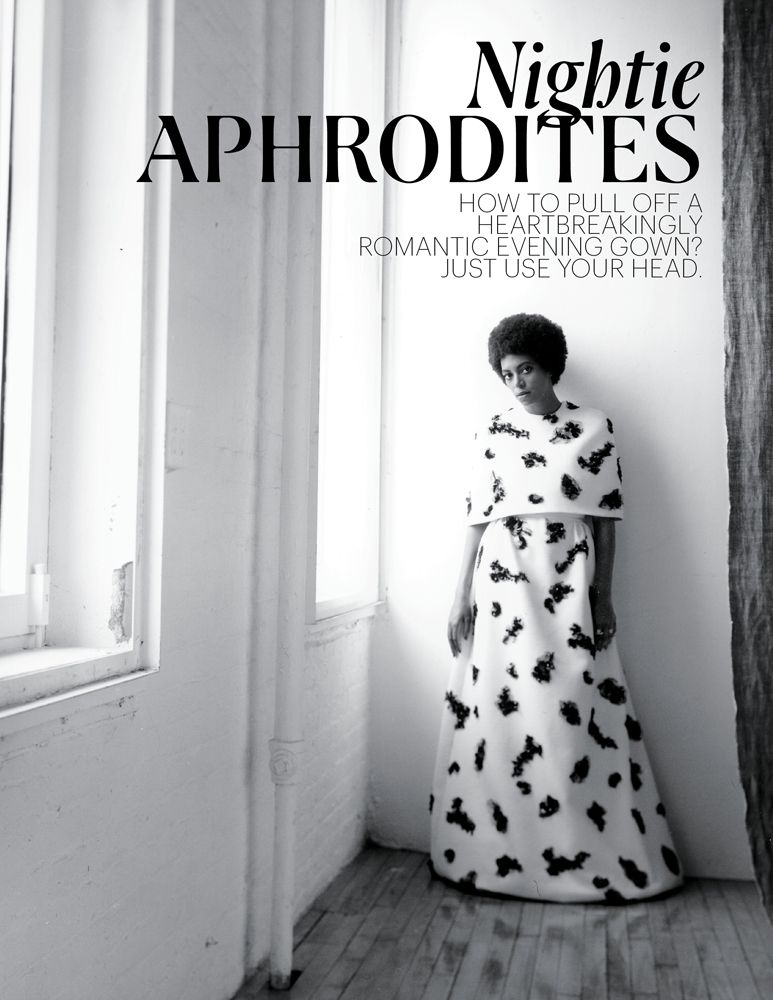 The notion that natural hair is somehow "wild," "messy" or "uncivilized" is as longstanding as it is wrong-headed. When I decided to go natural in college, many people of all different races began to perceive me in different and sometimes messed up ways. I got a lot of questionable comments about looking more "radical" and "militant." Even people who were trying to compliment or support my new look occasionally fell into the trap of enforcing this age-old dichotomy; comments suggesting I had sacrificed style for a cause or was somehow more "down" as a result of my new hairstyle still carried whispers of judgment and stereotypes. And of course, there's always the less subtle stuff like this Nivea ad which literally equates shaving off an afro with "re-civilizing" oneself. Gross.
These deeply embedded cultural norms comprise the context in which I experienced the NYT magazine spread "Nightie Aphrodities." Photographed by Alice O'Malley, herself something of an icon, the spread features various women of color rocking natural hairstyles with glammed up evening gowns. O'Malley's work was featured at the Moma's PS1 last summer, which I visited several times. I love how her photos tend to be elegant, whimsical, and wild all at the same time, and this shoot is no exception.
Perhaps the spread resonated so much with me because of my own personal experiences trying to dress my hair up for formal events and parties. No matter how many pins, clips, or twists I added, my natural hair never seemed to feel "dressed up" enough to fit in. Often I would end up getting my hair blown out for the night, only to have it frizz back up the minute I hit the dance floor and broke a sweat. O'Malley's shoot for the Times boldly plays with this notion of natural hair as somehow informal or uncivilized, depicting it as a rich, glamorous style that not only holds its own in the presence of Balenciaga or Giambattista Valli, but complements and even enhances these dangerously elegant looks.

Click on through to see the rest of the stunning images. And next time someone makes a comment or just shoots you the side eye suggesting your unpermed coif is uncouth, channel these untouchably glamorous nightie aphrodities as you scoff at their ignorance and dearth of style!