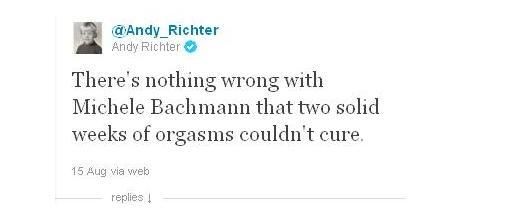 Yesterday Andy Richter, trusted Team Conan sidekick and long-working funnyman, took to Twitter to express his views on the woman that every feminist loves to hate to defend: "There's nothing wrong with Michele Bachmann that two solid weeks of orgasms couldn't cure," he opined.
How lovely. At the time of this writing, this insightful piece of political commentary has garnered over 100 Retweets.
As for those who found the joke less than funny? Richter's second response is this: "Many cried 'misogyny!' re: earlier Bachmann tweet. I take solace in knowing that as bad as I am, I am half the misogynist she is."
I find Richter's explanation that it's not sexism if the candidate isn't feminist enough to be pretty dangerous, especially coming from someone who makes high-profile media on a relatively progressive-leaning show like the Conan O'Brien Show.
The idea that women, and especially ambitious or conservative or gender non-conforming women, need to be "cured" by sex with men is appalling, and politics isn't the only sphere in which it comes up. We've written before about the awful phenomenon of "corrective rape", when a lesbian (or someone who is perceived as being lesbian) is raped by a man in order to "cure" them of their queerness.
But Richter isn't the only one who's been sexualizing Bachmann as a problematic means of political critique.
This weekend saw the advent of #CornDogGate, in which Bachmann was photographed eating a corndog in a position that resembled the performance of oral sex.
While I'm loath to do this, I'm going to have to agree with former GOP Senate nominee Christine O'Donnell, at least partially, who told ABC News' George Stephanopoulos on "Good Morning America" that she speaks from experience when she says women candidates –mainly Republican women – are unfairly treated.
"Female candidates get treated differently than male candidates and especially conservative female candidates. And so that's the double whammy," she told me. "And there's all kinds of theories as to why, but I think it's very clear if you look at the treatment of Sarah Palin, Michele Bachmann, my race."
O'Donnell is right, and I get the feeling this isn't the last time Bachmann's detractors will use humiliating techniques to sexualize and attempt to de-legitimize her views. Which is pretty unfortunate, considering her views could really stand to be de-legitimized on their own merits.