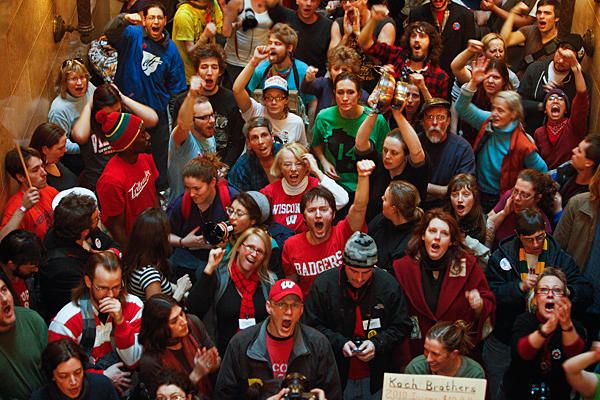 Next Tuesday August 9th is the recall election for 6 state senate seats in Wisconsin. Republican Governor Scott Walker's overreach to bust unions enraged the Democratic base in the state of Wisconsin and nationwide. All eyes are on Wisconsin which has become a flashpoint of the Republican assault on middle class workers and unions. 5 of the 6 Democratic candidates next Tuesday are women. All 5 are pro-choice Democratic women endorsed and supported by EMILY's list. Nancy Nusbaum (SD-02), Sandy Pasch (SD-08), Shelly Moore (SD-10), Jessica King (SD-18), and Jennifer Shilling (SD-32) hope to join the fiery Democrats already in Wisconsin's state senate.
As I've written before, next Tuesday in Wisconsin is just the beginning. Governor Walker's overreach is really just a microcosm of the overreach of the Republican party nationally. In a conversation with Feministing, EMILY's list president Stephanie Schriock said, "Pro-choice Democratic women and races are popping up all over the country and every single race matters." After the 2010 midterm elections gave the House back to the Republicans as well as governorships and state legislatures, Schriock said, "The ramifications of the 2010 midterms can be felt everyday state by state and all over this country as Republicans seek to roll back programs and services" essential to all women.
As feminists, 2010 was a wake up call. "We need to get to work to make sure we win every one of these races" and it starts with Wisconsin, said Schriock. We have one more week: the recall election is Tuesday August 9th and any ally can support from whereever they are. Feministing readers can join Team EMILY and sign up to do Get Out The Vote calls, which are extremely important because as Schriock pointed out, "Research proves the most important way to move women to vote is to have another woman talk to her."
Schriock's call to action: "Let's not just show the folks in Wisconsin that we are here and we are fighting hard and we will win but let's also show them that it's a movement across the country!"
CLICK HERE to help make sure pro-choice women in Wisconsin win on Tuesday night!