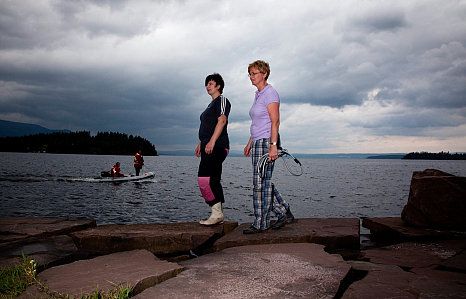 If a married lesbian couple saves 40 teens in Norway and no one covers it, did it really happen?
This is the question posed over at Talk About Equality, which presents the under reported story of a married lesbian couple who rescued 40 teenagers during and after the Norway shooting last month by transporting them by boat from the island to the mainland.
The blog gives this account (translated from the Finnish capital city's largest daily newspaper, Helsingin Sanomat):
Hege Dalen and her spouse, Toril Hansen were near Utöyan having dinner on the opposite shore across from the ill-fated campsite, when they began to hear gunfire and screaming on the island.

"We were eating. Then shooting and then the awful screaming. We saw how the young people ran in panic into the lake," says Dale to HS in an interview.

The couple immediately took action and pushed the boat into Lake Tyrifjorden.

Dalen and Hansen drove the boat to the island, picked up from the water victims in shock in, the young and wounded, and transported them to the opposite shore to the mainland. Between runs they saw that the bullets had hit the right side of the boat.

Since there were so many and not all fit at once aboard, they returned to the island four times.

They were able to rescue 40 young people from the clutches of the killer.

"We did not sleep last night at all. Today, we have been together and talked about the events," Dalen said.
My goodness, what an incredible story. I can't even imagine channeling such selfless and effective bravery in the face of terror.
Roz Kaveney has an opinion piece over at the Guardian outlining a few reasons why this couple might not be getting the shine they quite deserve:
"You can just imagine news editors in Washington worrying that, if they pushed the story, they would be accused of promoting 'the gay agenda'…

…In particular, gay teens need to be told not just that it gets better, but that they, personally, may one day get the chance to step up, be heroic and make it better."