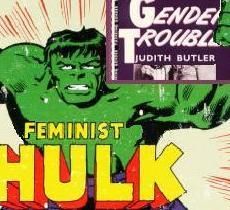 If you spend any time in the feminist Twittersphere, you are probably familiar with Feminist Hulk. And if you aren't familiar with Feminist Hulk, you are missing out on the hilarious anti-sexism goodness that Feminist Hulk portions out, 140 characters at a time. For example:
HULK SMASH UNDER HOT JUNE SUN! PATRIARCHAL DEBRIS MELT IN HEAT, FORMING PUDDLES OF SEXIST SOUP AT HULK FEET. SHOWER NOW.
and,
HULK SEW POCKETS IN TINY PURPLE SHORTS. NOW HULK HAVE SOMEWHERE TO PUT THE ANTI-HEGEMONIC POEMS HULK COMPOSE POST-SMASH!
Feminist Hulk has become something of a Twitter sensation, with over 40, 000 followers and a growing public profile. It helps that Hulk has an excellent sense of humour, as evidenced by this interview with Ms. last year. And while Hulk's true identity remains rather shrouded in mystery, some light has been shed on it recently. I am happy to shed some more light now, because this week, Feminist Hulk has done us the honour of answering the Feministing Five, in all caps, of course. Here, Hulk weighs in on the importance of smashing patriarchy, baking vegan cookies, and making feminism relevant to everyone.
And now, without further ado, SMASH! I mean, the Feministing Five, with Feminist Hulk.

Chloe Angyal:What made you want to start smashing?
Feminist Hulk: SMASH MADE HULK WANT TO SMASH. SMASH IS INTEGRAL PART OF RELATING TO WORLD. THEN, THE MORE HULK ENGAGE WITH WORLD, THE MORE INTERLOCKING SYSTEMS OF BULLSHIT OPPRESSION BECOME APPARENT TO HULK. HULK SEE NEED FOR EXPONENTIALLY SMASHTASTIC SMASH, AS FORM OF CULTURAL ENGAGEMENT AND PERSONAL AGENCY! ALSO, SMASH IS VERY PROACTIVE WAY TO SPEND TIME WHILE VEGAN COOKIES ARE BAKING.
CA: Who is your favorite fictional heroine, and who are your heroines in real life?
FH: HULK CHALLENGE NOTION THAT HEROIC CHARACTERS LACK HUMAN FRAILTY, SO HULK GRAVITATE TOWARD CHARACTERS WHO STRUGGLE AND GROW, LIKE DENVER IN BELOVED (AMONG OTHERS). HULK ALSO TRY TO CHALLENGE CULT OF PERSONALITY, SO AS MUCH AS HULK LOVE RUTH FRANKENBERG, AUDRE LORDE, DAW AUNG SAN SUU KYI, AND OTHERS, HULK CHOOSE THEM NOT JUST AS FACES TO PUT ON BUTTONS BUT AS INSPIRATIONS TO ACTION!
CA: What recent news story made you want to scream?
FH: HULK SMASH BARRAGE OF RAPE SHAMING IN NEWS COVERAGE OF MANY RECENT EVENTS, INCLUDING GANG RAPE CASE IN CLEVELAND (TX) AND SILSBEE CHEERLEADER CASE. WHEN WE AS HUMAN COMMUNITY TREAT SURVIVORS SO HORRIBLY, WE ARE COMPLICIT IN THE VIOLENCE THAT CONTINUES TO AFFECT MILLIONS OF LIVES.
CA:What, in your opinion, is the greatest challenge facing feminism today?
FH: WORD "FEMINISM" ITSELF. HULK LOVE FACT THAT FEMINISM REFER NOT TO A SINGLE SCHOOL OF THOUGHT, BUT MANY DIFFERENT APPROACHES TO POLITICAL ACTION. UNFORTUNATELY, MANY POTENTIAL ALLIES CLOSE THEIR EARS, MISLED BY SIMPLE, REDUCTIVE, REACTIONARY DEFINITIONS OF THE TERM. CHALLENGE IS TO REOPEN DIALOGUE, SHOW THAT FEMINIST POLITICS ARE RELEVANT TO EVERYONE! WE MAKE FEMINISM WHAT IT IS, WHAT WE NEED IT TO BE.
CA: You're going to a desert island, and you're allowed to take one food, one drink and one feminist. What do you pick?
FH: KALE, FOR THE LEAFY AWESOME. KOMBUCHA, FOR THE FERMENTED AWESOME. CIXOUS, FOR THE YEARS OF INTELLECTUAL CHALLENGE IN INTERPRETING HER EVERY AWESOME SENTENCE, WHICH WILL HELP STAVE OFF INEVITABLE DESERT ISLAND PSYCHOSIS.