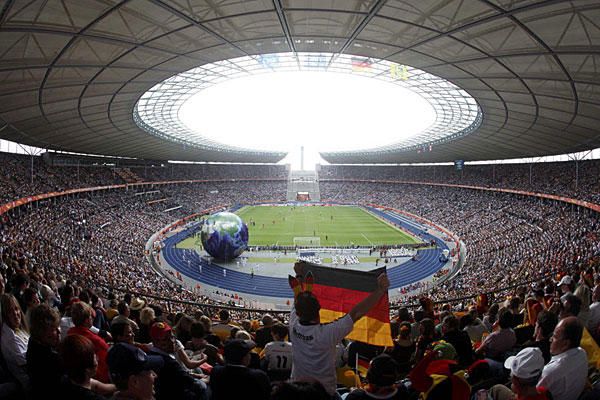 (Image credit: Thomas Peter/Reuters)
The 2011 Women's World Cup kicked off in Germany yesterday. So if you, like me, felt the men's tournament last summer flew by before you could adequately develop obsessive team loyalties, another summer of soccer is here!
In the opening matches, France beat Nigeria and Germany, the two-time defending champion and tournament favorite, defeated Canada. The U.S. team, though still ranked No. 1 in the world, has suffered a few recent losses going into the tournament. But it remains a strong contender with a shot at winning its first Cup since 1999. Brazil, led by all-star striker Marta, is also looking pretty damn good.
The hype leading up to the tournament has clearly been feeble compared to the excitement that greeted the men's Cup last year. And I'm sure we're in for yet another discussion about this lack of media attention–does it cause the lack of interest in women's sports or simply reflect it? Is FIFA promoting the Cup well enough? Are the media to blame for not covering women's sports? Are viewers just not interested?
I've written about this conversation before, and, honestly, I'm kinda tired of it. I hate the implication that someone–whether it's the media or viewers–has an obligation to support women's sports out of some abstract commitment to gender equality.
Fuck that. You should watch the World Cup this summer because women's soccer is beautiful–and, in my expert humble opinion, superior to the men's game. You should watch with a group of friends–preferably of mixed genders–because watching sports together is a really fun thing to do. And you should drink beers and get a little belligerent, because, duh, that's how it's done.
All 32 games will air on ESPN or ESPN2. You can find the full schedule here. You can meet the psychic octopus Ophilia here. You can find out which players to watch here.