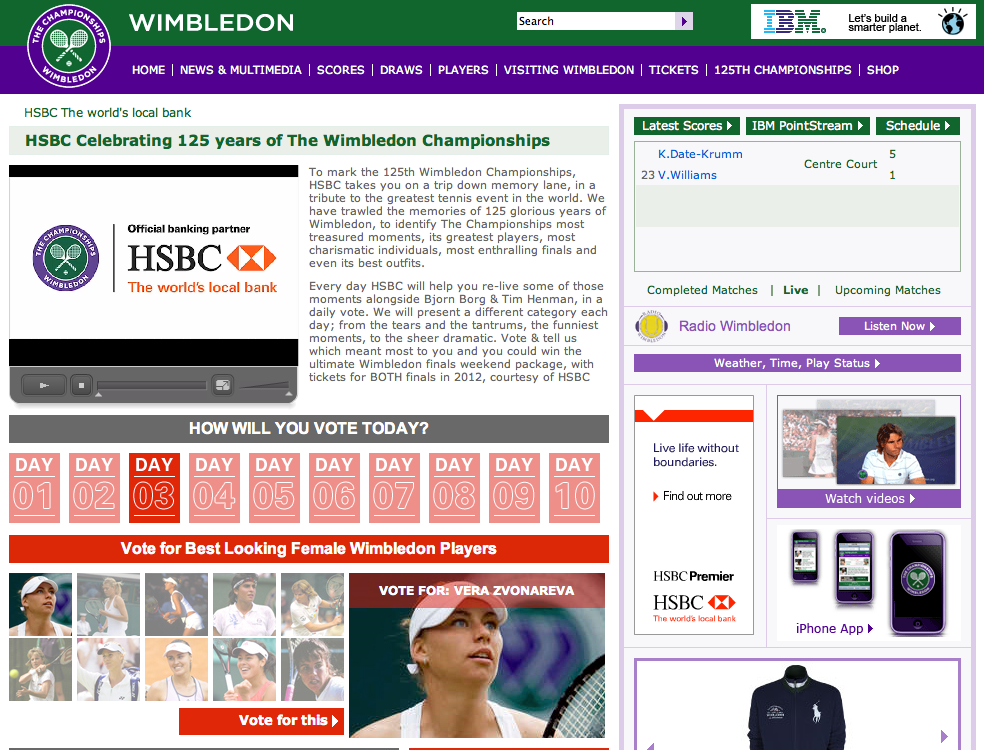 I've got "zero love" for Wimbledon right now.
The official Wimbledon site is giving away free tickets to people for voting on the "best-looking female player".
Really, Wimbledon, really? You couldn't think of a better way to honor the top female tennis athletes in the world than to subject them to a glorified "hot or not" contest?
As if that weren't enough, they've made sure to send their best copy-writers to get people excited about what I'm sure must be the showdown of the tournament:
"Maria Sharapova and Ana Ivanovic are neck and neck in this category so far, with each having 27% of the vote. Have your say below, and cast your vote to let us know who you think is the best looking female Wimbldon [sic] player" the website reads.
This inane and insulting contest comes on the heels of Wimbledon official Ian Ritchie making sexist and inappropriate comments about female players "grunting".
According to Yahoo! Sports, the head of Wimbledon has said female tennis players who grunt when they hit their shots are "spoiling the game for fans".
"The players have an ability to complain about it, if one player is grunting too much and the other player doesn't like it and it is distracting, they can complain to the umpire," Ritchie is quoted as saying in an interview with the Telegraph.
I think it's odd that Wimbledon would choose to objectify their players in this way (I wonder and strongly doubt that the players agreed to this, or are being compensated for it), even if they are practicing equal opportunity objectification (there was a "best-looking" contest conducted for the male players yesterday).
And especially considering the fact that Wimbledon only started giving women equal prize money 4 years ago, and given that women only play 3 sets while men play 5, voting on women's appearance means something very different than it does for men, as they are already struggling for a sense of equality and legitimacy that male players haven't had to.
I'm particularly disturbed by this because of the message it sends to young athletes, male and female, who are busting their balls day-in and day-out to be great. BS contests like this perpetuate the idea that no matter how hard they work, it always comes back to their looks, and in particular, how closely they adhere to conventional standards of beauty.
It's times like these that make female athletes wonder if they really want us in sports. It's not just female tennis players- female athletes of all sorts face a real lack of financial, structural, and cultural support for their involvement, in comparison to that which men receive.
We've written before about the work of Professor Michael Messner, who studies gender and the sociology of sports, and has said that many of today's women and girl athletes feel that when they leave high school, they become invisible. He's conducted numerous studies which point to the fact women's sports are still largely ignored. "There is a continuing marginalization, or downright ignoring, of women's sports by the media."
I get that it can be hard to attract and sustain fan interest in sports and maybe female athletes in particular, but I hardly think that a "best-looking female player" contest is the solution.
Wimbledon should remove this contest from their website and issue an apology. Not just to me, or to the top-notch players, male and female, whose looks are being pitted against each other for absolutely no reason, but to every single up-and-coming athlete who saw or heard about the contest and thought, even just for a second, about how, even at the top levels of her sport, looks still matter more than talent.
h/t to Claire