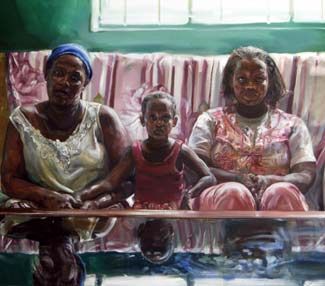 Only 8 percent of the work that the Museum of Modern Art exhibits is by women.
Only about 23 percent of solo gallery shows at top New York sites feature pieces by female artists.
Women are consistently only 15% of the names on Artforum's, Art + Auction's, and ArtReview's annual "power lists."
I was reacquainted with these baffling statistics when I sat on a panel on women in the art world as part of the opening of an incredible new show of women's work called "A Room of Her Own" at Lu Magnus Gallery (also a part of the New Museum's Festival of Ideas). I was invited by my friend Natalie Frank, who is a force to be reckoned with (her work is pictured above).
The conversation got me thinking a lot about the barriers–institutional, social, and internal–that still keep women artists' and their critical work from getting respect in the art world. In my column at TAP, I wrote:
A contemporary woman artist still needs a room of one's own and, as Woolf also urged, financial security, in order to make great art, but she also needs "an ego of one's own," and "a network of one's own." If her art is to get out into the world — written about, represented by galleries, and anointed by museums and art collectors as worthy — she has to be able to talk her work up, have somebody powerful willing to listen when she does, and not face gender stereotypes that she is transgressing social norms by doing so.
It seems to me that the art world needs the equivalent of The Op-Ed Project, an organization that can train women artists to represent their work, seek out representation, and support one another in finally, and once and for all, making sure our visual culture is inclusive and diverse.