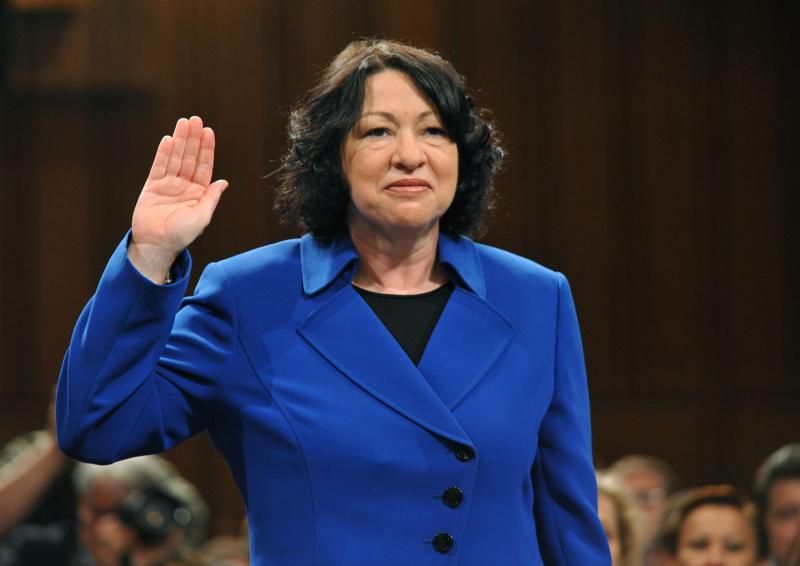 On Friday evening I was lucky enough to hear Associate Justice Sonia Sotomayor speak at a conference of Princeton alumni women. Sotomayor, who is Princeton class of 1976, was in conversation with University president Shirley Tilghman, herself a very impressive woman, a trailblazer in the field of molecular biology and the University's first woman president.
The conversation covered everything from how Sotomayor decided she wanted to be a lawyer – from watching Perry Mason – to whether or not the confirmation process for SCOTUS justices needs to be reformed – she thinks it does, but cannot imagine a solution that would please all the parties involved.
She also talked about the experience of being a young Hispanic woman litigator and judge and about how demoralizing it could be when those factors – young, Hispanic and female – coloured people's assessments of her abilities. She told stories about being mistaken for an assistant and being asked to get coffee, or male litigators whose attitudes visibly changed when she started asking probing and thoughtful questions, and they realized that they had to start paying attention.
When asked what advice she would give young women entering the legal profession, Sotomayor said that she wished she could tell them they wouldn't encounter similar problems. "You will," she said. "You have to recognize it for what it is, and push past it. Don't get demoralized, even though it is demoralizing."

And the numbers, for women who want to reach the top echelons of the legal profession or who want to become judges, are demoralizing. As Sotomayor mentioned repeatedly on Friday night, half the people graduating from law school are women, but very few women make partner in law firms, and there is an enormous gender gap among judges. And of course – and it boggles my mind every time I remember this – there have only ever been four women on the Supreme Court, and three of them are sitting right now.
That said, Sotomayor does believe that things are better for women in 2011 than they were when she was in college and law school, when she was frequently the only woman in her class. "Generally in the society, conditions are better in terms of there being more women, at least at entry levels," she said.
But something happens after law school and the entry level, when women and men are represented in equal numbers, and the top, where women are so woefully underrepresented. There wasn't much discussion of what that something is – though motherhood is a good guess – but Sotomayor is clearly aware that the explanation for the gender gap is not that women aren't capable or educated enough to be Supreme Court justices, but that their opportunities to prove themselves worthy of such a post drop off as they get older. And of course, it doesn't seem to be a coincidence that of the four women who to sit on the SCOTUS bench, only one has children.
The answers are not simple; as the sheer amount of "work-life balance" programming at this women's alumni conference demonstrated, the question of how to have a demanding, satisfying career and a demanding, satisfying family at the same time is one that continues to confound, exasperate and in some cases, defeat us. As one alumni commented, she's been having this discussion at every class reunion since she graduated from Princeton in 1973, a member of the first co-ed class at the University.
As a young woman listening to this conversation, a young women who wants a demanding, satisfying career and perhaps, at some point, a life partner and/or a baby, it's hard not to be discouraged. Some of the women around me have been grappling with these problems for the past 37 years and still haven't figured it out – and it's not because they aren't smart, resourceful and creative. It's because they're individuals, and these are giant systemic problems that call for giant systemic solutions. Certainly, the trends of flextime, gender-neutral parental leave and stay-at-home Dads have changed landscape in which my generation will be having these conversations. But the landscape hasn't changed that much in the nearly four decades that have passed since these women left college.
I'm a proud member of the class of 2009. I'm grateful to the women who came before me and who ensured that the conversation I have – with my colleagues, with my boss, with my government – will be easier than the one they had. But grateful as I am, the landscape remains daunting. And I really don't want to be having this conversation with my classmates in 2046.