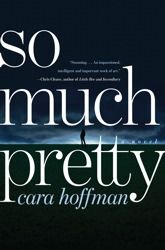 So Much Pretty is about a small, poor town in central New York state that is rocked by the disappearance of a young woman and by another act of gendered violence, both of which turn the town and the women involved into household names.
It's told from a number of perspectives, many of them belonging to outsiders: the environmental reporter who moved there to find and write a "big picture" story about Ghost Town, USA, or the young idealistic doctors who moved there from Manhattan to "get back to the land." It is a story about a lot of things – abduction, rape, murder, rural poverty and isolation, corporate greed and corruption – but at its core, it is about violence against women.
More specifically, this is a book about how every one of us colludes in rape culture. It's about how we close our eyes to it, or make excuses for it, even when it's right there in front of us. And it's a book about the different ways that people try to stop colluding and decide to do something, whether it's through the career they choose, or the way they raise their children, or by writing about it honestly and openly.
That's exactly what reporter Stacy Flynn does: she writes, in a brutally honest way, about violence against women. And it's exactly what Hoffman has done here. She has drawn a detailed and unsettlingly realistic picture of a small community in which violence against women happens every day, in big, headline-making ways, and in small, barely perceptible ways. And she has imagined what it might look like if some women simply decided that they weren't going to tolerate that violence for a moment longer.

On Wednesday night, I was lucky enough to meet Hoffman and to interview her before a small crowd at Brookyln's Greenlight Bookstore. We talked about a number of themes in the book, including the way that women sometimes collude in rape culture by engaging in victim-blaming. It's a form of denial, a way of reassuring ourselves that sexual violence happens to a certain kind of woman, but it can never happen to us. We talked about how the press covers sexual violence cases, and the importance of honoring the experience of survivors while still focusing on the reality that rape is perpetrated by rapists. And we talked about the importance of raising boys to respect women and girls. Hoffman, who has a teenage son, believes that "there is no greater responsibility in the world, no social justice project as significant or worthwhile than raising a rational, capable and peaceful man."
So Much Pretty is not an uplifting novel in the least, and yet, I left my conversation with Hoffman feeling, if not happy, then at least hopeful. As I flipped through the book on the way home, skimming back over the passages that had most resonated with me when I read the book, I tried to figure out why I felt so, well, so good. And I realized that it was because as heavy as these issues are, and as ever-present as they are in our lives, it felt really good to just talk about them, out in the open, in the disinfecting sunlight. So Much Pretty, itself, isn't a polemic about rape culture. It's a conversation – an honest, unflinching conversation. It's confronting, but it's also very cathartic.