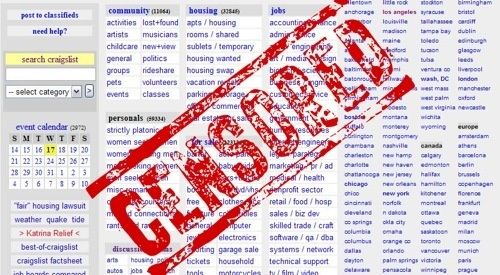 Yesterday, the Village Voice City Pages published an article debunking the Women's Funding Network (WFN) sex trafficking study that played such a pivotal role in the shutdown of Craigslist's Adult Services section last fall and was cited by some of the biggest newspapers in the country.
The article exposed the WFN study as bogus and faulty, lending credence to something that sex workers and sex worker advocates have been saying for years: oft-cited stats about unrealistically high numbers of women and children being trafficked into the sex industry tend to have serious flaws. At best they paint an inadequate and victim-focused picture of the industry, and at worst they manufacture shame, fear, and sensationalism for private gain. Both of which seem to have happened in this case.
As the Voice reports, Deborah Richardson, the chief program officer of the Women's Funding Network, testified in Congress back in September of 2010 by saying the following:
"An independent tracking study released today by the Women's Funding Network shows that over the past six months, the number of underage girls trafficked online has risen exponentially in three diverse states," Richardson claimed. "Michigan: a 39.2 percent increase; New York: a 20.7 percent increase; and Minnesota: a staggering 64.7 percent increase."
Turns out, there's very little science behind these numbers, instead they're simply based on looking at photos on the Internet and counting those who appeared "young-looking."
The Voice interviews a couple of experts in the field who confirm that the study is fundamentally flawed. The whole article is really an amazing read and an excellent piece of investigative journalism, and I highly recommend that you read the whole thing. But perhaps some of the most incredible parts are the ones with quotes from reps of WFN themselves, who make it blatantly obvious that they knew what they were doing, and used fake data to deliberately deceive the media– and Congress– to get publicity and fundraise.
"We pitch it the way we think you're going to read it and pick up on it," says Kaffie McCullough, the director of Atlanta-based anti-prostitution group A Future Not a Past. "If we give it to you with all the words and the stuff that is actually accurate—I mean, I've tried to do that with our PR firm, and they say, 'They won't read that much.'"
And another passage demonstrating mind-blowing irresponsibility:
"We're the first to tell you, this is not a precise count of the number of girls being prostituted," Schapiro said. "We make no bones about that."

Of course, a precise count of the number of girls being prostituted is exactly what the statistics are being presented as in the media, in press releases, and in Schapiro's own study. When this is pointed out, Schapiro reverses herself.

"Well, yes, these are specific numbers," Schapiro backpedals. "And yes, they are hard numbers, and they are numbers that we stand completely behind."

Emphasis mine
The Village Voice has certainly done an excellent job of exposing the inconsistencies in gathering this data around sex work, and examining the media's spreading of the false findings. But Audacia Ray, advocate and colleague of mine at IWHC, gives some context to the articles findings, pointing out that sex workers have been loudly questioning research like that of the WFN for years:
"We're seeing more and more statistics being thrown around about the trafficking of women and children – the regular scares about trafficking and large sports events, using the same stats over and over are a good example. Sex workers as well as people who work in solidarity with sex workers, including academic researchers, have been loudly questioning these statistics for years. Yet our viewpoints are regularly dismissed and undermined. I'm glad to see this article, and I hope it makes some waves in the funding and anti-trafficking communities, but it's frustrating that it is necessary for white male researchers to do this criticism before it is deemed valid."

Emphasis mine
Whether the debunking of this study will have tangible ramifications for Craiglist Adult Services, or the sex worker community at large, has yet to be determined. But in the meantime, it's a sobering reminder that sensationalism and scare tactics have no place in feminist activism.
For more accurate information on sex work today, check out the Global Network of Sex Work Projects, which hosts a monthly storytelling series and weekly podcast.
And New York-based folks are encouraged to come out to The Red Umbrella Diaries, a monthly series where people who have worked in the sex trade gather to share stories and document their experiences.
*Update: The Schapiro Group has responded to the Village Voice article. I don't personally think their statement changes anything- they even admit they're doing "educated guesswork". But you can read the full response here and decide for yourself.