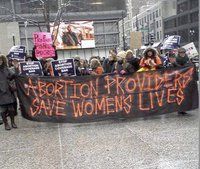 Today is the 18th anniversary of the murder of Dr. David Gunn, who was shot by Michael Griffin. Dr. Gunn was the first abortion provider killed in the US because of his job. Since then the violence has continued all the way up to the murder of Dr. George Tiller in 2009. Abortion providers – doctors, nurses, and clinic staff – face harassment and threats every day because they provide important medical care. And yet it's the people who oppose abortion, including people who have killed other human beings because of this view, who call themselves "pro-life."
In honor of Dr. Gunn's memory March 10th is the National Day of Appreciation for Abortion Providers. Providing abortions should just be another health care job, but in this country and this political moment it's an heroic act. I'm grateful to all the providers who continue doing this important work because they understand the truth: women need abortions, and no amount of angry, ill informed rhetoric is going to change this reality.
World Can't Wait has postcards you can print out and send to providers – check out the National Abortion Federation's list of member providers to find the clinic in your area. A valuable way to support providers is to become a clinic escort if that's work you feel up to doing – I'd recommend searching for your local clinic escort organization or simply contacting the local clinic. And of course you can tweet, blog, write to your local paper, etc to express support for providers.