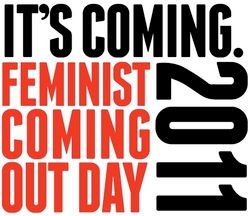 Do you remember when you came out as a feminist? Do you remember the moment when you announced to the world, "Hey world, I believe that men and women should have the same rights and opportunities"? Were you perhaps, like my friend Greg, the only person who raised their hand when your US History teacher asked the class, "Who here is a feminist?" Were you scared? Excited? Or have you perhaps not publicly come out as a feminist yet?
Well, Feminist Coming Out Day is fast approaching, so if you're looking for an excuse to come out, or if you'd rather come out en masse rather than all alone, listen up.
Feminist Coming Out Day was founded by Harvard alum and Ch!cktionary blogger Lena Chen. Feminist Coming Out Day 2011 is happening next week as a part of Women's Week at Harvard, and two Feministing bloggers are going to be there! Lori and I will be heading up to Boston next Thursday, March 10th, to speak about feminist blogging and activism, along with a bunch of other awesome ladies including Sady Doyle of Tiger Beatdown, Anna North of Jezebel, Andrea Plaid of Racialicious, Julie Zeilinger of The F Bomb and Cherie Hannouche of The Daily Femme. Chen, who is co-organizing with Radcliffe Union of Students president Abby Sun, will also be speaking. Here are the practicals:
Feminist blogging panel
Thursday, March 10th, 2011, 7:00-8:30 PM
Ticknor Lounge, Harvard Yard
The panel is sponsored by the Radcliffe Union of Students
We are super excited to be a part of Feminist Coming Out Day and if you're in the Boston area, we hope you'll come to Ticknor lounge and meet us next Thursday!