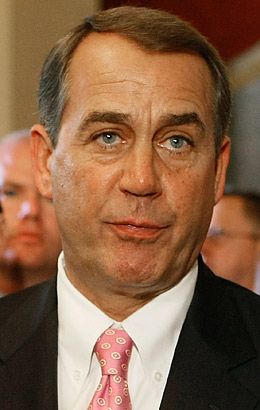 Yesterday John Boehner, who's already been busy as Speaker of the House trying to defund Planned Parenthood and attacking abortion, had this to say about President Obama's Defense of Marriage Act (DOMA) decision:
While Americans want Washington to focus on creating jobs and cutting spending, the President will have to explain why he thinks now is the appropriate time to stir up a controversial issue that sharply divides the nation.
No seriously? Is he trying to make a joke? I mean, really?
President Obama instructed the Justice Department to stop defending DOMA. That's less work for government to do! And I think we've all learned by now that gay marriage won't lead to people sleeping with their plants and the sky falling. John Boehner and his colleagues in the House are spending their valuable time in session going after abortion and Planned Parenthood at whatever cost, including holding up the budget process. Literally getting in the way of creating jobs and cutting spending. Actually would be destroying a lot of jobs if the attack on Planned Parenthood was successful. So, um, who's stirring up a controversial issue to divide people again?
Look, it's an avoid-y statement focused on jobs instead of attacking gay marriage, probably because Boehner knows he's lost this one. But in light of his recent actions the statement is empty, cynical politics and yet more of an insult to people in the US who really do need jobs – as well as legal rights and abortions.