A lawsuit has been brought against the state of Louisiana for its nonsensical and discriminatory use of an antiquated "crime against nature" statute to arrest and prosecute sex workers.
And it is kind of rocking my world.
According to a recent press release, Women With a Vision (WWAV) has brought its campaign for repeal of Louisiana's Solicitation of a Crime Against Nature (SCAN) statute to the steps of the federal court with the lawsuit Doe v. Jindal. Calling the SCAN statute "unconstitutional" on equal protection grounds and "cruel and unusual punishment", the complaint names nine plaintiffs, including a grandmother, a mother of four, three transgender women, and a man, all of whom have been required to register as sex offenders from 15 years to life as a result of their convictions for the solicitation of oral sex for money.
The Center for Constitutional Rights, a Loyola University law clinic, and the bad-ass Andrea Ritchie, Esq., a police misconduct attorney, are representing the plaintiffs.
Louisiana's statute criminalizes the solicitation of oral or anal sex for money, despite the existence of a prostitution law that covers the same conduct. While penalties for first convictions are the same for both laws, SCAN requires second and subsequent offenders to register as sex offenders from 15 years to life. In the words of one plaintiff, "It's like the scarlet letter. I am trying to put that in my past – but it's not gonna be in my past because it's in my present, and it's going to be my future for the next 13 years."
SCAN is the only registrable crime that does not involve force or the victimization of children, yet, as you can see in the graph below, 40 percent of those on the Orleans Parish registry are registered for a SCAN conviction, making SCAN the single most frequent law under which sex offenders are registered in Orleans Parish.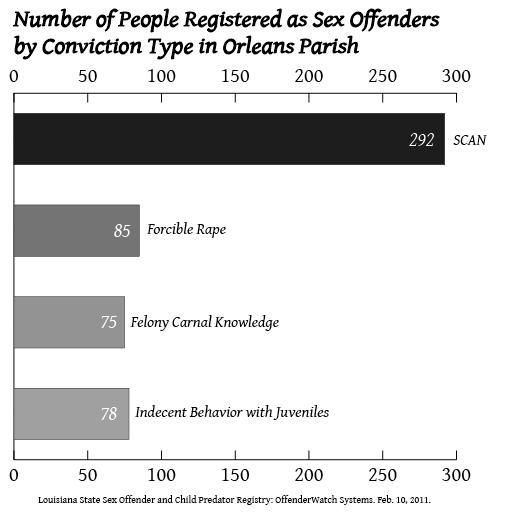 To add insult to injury, and perhaps not surprisingly, the law contributes to further discrimination by being applied inconsistently, in effect singling out poor Black women involved in street-based economies, transgender women and gay men of color. According to the WWAV press release, 80 percent of those registered solely because of a SCAN conviction are African American.
Women With a Vision has three demands for the Louisiana legislature, and I stand behind each of them:
1. Repeal the Solicitation of a Crime Against Nature Statute (SCAN).
2. Abolish Registry Requirements for Individuals Currently on the Registry Whose Only Registrable Offense is SCAN.
3. Expunge All State Records Labeling Individuals Whose Only Registrable Offense is Crime Against Nature by Solicitation as Sex Offenders.
Here's sending support and well wishes to the bad-ass women of WWAV, as well as their awesome team of lawyers, as they do the massively important work of dismantling racist, sexist, sex-negative, and transphobic relics of a broken system.
h/t to Audacia Ray