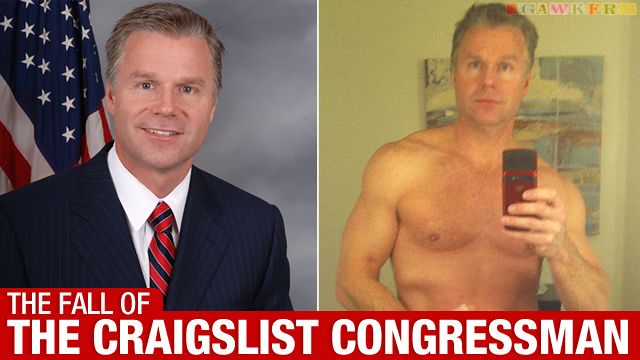 Yesterday gossip site Gawker single-handedly whipped up a scandal that led to the resignation of a NY congressman.
At 2:33 PM, Maureen O'Connor published a post on Gawker containing flirty emails and a shirtless photo supposedly sent from a [married] congressman, Rep. Chris Lee, to an unidentified woman in response to a Craigslist dating ad.
By 5:30 PM, Lee had resigned from Congress.
It's not the first time that Gawker has published anonymous accounts of the sex lives of political figures.
You'll remember back in October, they published some unnamed guy's story of a Halloween night [allegedly] spent drinking, flirting, and making out with Christine O'Donnell, then Delaware Republican Senate candidate.
Back then, the post was met with much disdain, prompting a strongly-worded statement from NOW, among others, condemning "sexist, misogynist attacks against women" and calling Gawker's decision to run the piece "public sexual harassment".
But yesterday's post on [ex]Congressman Lee is raising ethical alarms for different reasons.
First of all, the subject of the post is an actual elected official, not just a candidate, which I think raises the stakes a bit. Second of all, the subject is married. That changes the accusation from good old-fashioned flirtatious fun to good old-fashioned attempted adultery. Third of all, no contact was ever made, or at least it wasn't reported in the piece. This, for me, makes our collective judgment as the general public feel a lot more petty. Fourth of all, publishing this piece had a very concrete political result- the congressman resigned as a direct consequence of Gawker's decision to publish the piece. And lastly, of course, the subject of this most recent anonymous Gawker expose is a guy. So at least we can't accuse them of running tabloid-style stories with a double standard?
What to make of all this?
Well, not much really, except that sex, or anything that resembles or hints at it, is still super taboo in our society. And considering that it is unclear if sex even occurred in this scenario, I don't get why this is news, especially when the "source" won't even publicly identify themselves to provide context, transparency, or accountability for their claims.
I feel more disapproving towards Gawker than ever before. Seems like they are trying to come off as some sort of neutral publisher of tips, but are actually contributing to a culture of shame around sex and sexuality by presenting their facts of normal flirtations and sexual encounters in such a sensationalistic manner.
If anything is clear, Gawker's middle school "gotchya" pranks are just showing us how low we have sunk for what we consider legitimate political dialogue. And finally, it's clear that we are all going to have to evolve our rules of flirting, dating, and sex to catch up to all these opportunistic internet journalists. But until that happens, may I recommend NOT using your real email address to step out on CL.