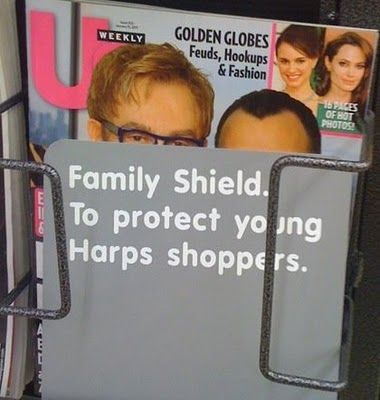 This is a picture posted by Joe.My.God from a store in Arkansas. It's a "family shield" covering up the cover of US Weekly which featured Elton John, his husband and their child. In response to protests by Joe. My. God readers, the store issued this response and took down the shield.
Violence erupted at the funeral of murdered Gay Ugandan activist David Kato after a pastor grabbed the mic and began yelling homophobic things. The commotion forced his friends to bury his body themselves after villagers refused.
Southerner's On New Ground (SONG) is doing a survey of Lesbian, Gay, Bi and Trans folks in North Carolina and Virginia. If that includes you, go here to fill out the survey.
The fight to challenge the 14th amendment has begun. In Arizona (apparently where all bad immigration bills begin) legislators have introduced bills that would challenge the concept of "birthright citizenship"–that anyone born in the US is a citizen. These efforts are horribly racist and anti-immigrant, and directly target those communities. These bills are designed to create a Supreme Court challenge.
This is a useful resource if you want to keep up with what is going on in Tunisia, Egypt and Yemen. It's a liveblog of all the news coverage of the protests and actions in these countries.
New research out suggests that breast implants may be linked to a rare form of lymphoma.