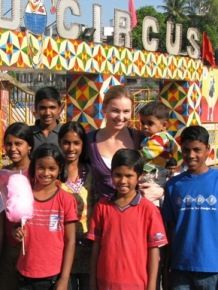 Julia Neubauer is the co-founder and CFO of the Ashraya Initiative for Children, an orphanage in Pune, India. Neubauer, who is originally from a small town in Austria, went to high school in India, where she was struck by how many small children she saw begging on the street, some of them orphans, but many of them begging to help support their families. While she was in high school, Neubauer volunteered at a local orphanage and got a taste for social justice work. She left India to go to college, but not long after she matriculated at Princeton, she got a call from one of her high school classmates, Elizabeth Sholtys. Sholtys had also volunteered in India on a short term basis, but she was thinking about starting a permanent organization to help Indian children. Neubaer jumped aboard. A short while later, the two young women, then still just college sophomores, founded the Ashraya Initiative for Children in Pune, in the state of Maharashtra.
There were myriad challenges, from completing paperwork in the local language, Marathi, to the cost of real estate, and of course, securing funding to run an orphanage that can house, feed, clothe, educate and care for fifteen children (Neubauer told me that much to her surprise, a good deal of AIC's funding every year comes from residents of her small Austrian town). Sholtys was able to convince administrators at Emory University, where she was enrolled, that she could spend every other semester in Pune and still graduate on time (Princeton could not be convinced to let Neubauer do the same). But six years later, the AIC is home to twelve children, and also runs health and education outreach programs – everything from medical checkups and screenings to adult literacy classes, micro-credit savings groups and legal advocacy workshops – in the local community.
What Neubauer and Sholtys have achieved is nothing short of astonishing, and it was an honor to speak with Neubauer, who at sixteen saw a problem that she felt compelled to help solve, and wasted no time in finding a way to do it.
You can find out more about AIC, and about how you can get involved in Neubauer's and Sholtys' remarkable work, here.
And now, without further ado, the Feministing Five, with Julia Neubauer.

Chloe Angyal: How did you come to co-found the Ashraya Initiative?
Julia Neubauer: Liz and I were at Mahindra United World College together. The International Baccalaureate wants you to do a lot of social service as part of your education. So both Liz and I were heavily involved with children; we taught English to kids in the village and I worked at an orphanage that was right next to our school. And both of us were sure when we left India to go to college that we wanted to come back and volunteer at some point in our lives, but we didn't really know when or how. And so we left India, and I think Liz was really bored at Emory, and I felt really out of place because I was a blonde girl from a developing country background. I got a call from Liz in February 2004, our freshman year, about starting a home for street kids, because she wanted to do something more permanent. And I said yes, because I really missed India, and I was trying to find my grounding at Princeton but I wasn't really comfortable. So she sent an email out to five other people to help us with starting an NGO in the US.
In the summer of 2004, Liz and I went back to try to figure out what we wanted to do. We knew it wanted to be an orphanage or a home for street kids, but we didn't really know how many kids we wanted or exactly how to start this project up in India. We visited a home for street kids in Mumbai, and we also went to the railway station every day partly because Liz was doing some research with kids in railway stations, and also because we wanted to see how many of those kids were out there. And we found that a lot of the kids who are begging at the railway stations actually have parents. They have parents and families and they have to work begging at the railway station to make money for their families.
So we spent the summer in India and settled on a number of 15 kids, maximum. We didn't want any more than that because of our experiences with orphanages in India. A lot of kids in orphanages in India grow up living with hundreds of kids. At the orphanage I worked at, there were 200 kids and 6 caretakers. They never got any affection from people. When I volunteered there, all I did was hold kids. They just wanted to be held. And we would never, ever, ever want our institution to be like that. You can't really criticize those orphanages because they don't really have a choice; they're government-run and get very little money and have to fit the maximum number of kids in the smallest space possible. But we never want to be that kind of orphanage. A lot of kids who come out of orphanages in India end up back in the slums. And I never want to know that our kids will go back to the slums because they have no vocational training or no education. We started with a different approach, which was to raise every child as an individual. Our kids can have the most random requests. It's like a family – if one kid wants to start tabla lessons, we'll figure it out. If another kid wants to learn another musical instrument, we'll figure it out. But basically all of them are so into soccer right now that we don't really have to think about other hobbies. So we wanted a small home where the kids are raised in a family, and where they also have the best education we can possibly give them.
CA: Who is your favorite fictional heroine, and who are your heroines in real life?
JN: I just re-read A Thousand Splendid Suns recently, and I think Mariam and Laila, the two Afghan women in the book, are great. They stand for a lot of women out there who dare to stand up for themselves as much as they can despite horrendous circumstances, and remind me of some of the women AIC works with, who are also abused and live in a society that isn't at all hospitable to women from their caste and background.
In real life, Queen Rania of Jordan. I'm really into her education politics in Jordan. She was the first one to make sure that everyone is educated, and she was the first one to realize that her country needed a one hundred percent educated population. I wouldn't say she's my heroine, but I've been following her closely for the last couple of years and I really admire what she does with education politics in Jordan.
CA: What recent news story made you want to scream?
JN: Now that I'm back in Austria, I'm following Austrian politics more closely, and having grown up in such an international environment, I really dislike the Austrian immigration policy. Austria's a very homogenous country, and there's been hardly immigration, and now there are all these people from Turkey and from Europe and all sorts of people seeking asylum, and Austrians are really racist. And the politicians abuse this and use it as an opportunity to gain votes. You literally have politicians saying that Turkish people take jobs away, that they're all criminals, that they're not integrating themselves. Austria doesn't really have good integration politics, so they're not enabling people to integrate themselves. For example, they frequently deport people who have kids here, who have gone to school here, who are here legally and have jobs and speak German.
CA: What, in your opinion, is the greatest challenge facing feminism today?
JN: A lot of people think that feminists are these women who only want to have a career, and no kids and no family, and that's absolutely not true. I consider myself a feminist, and I want to have a career and a family and equal rights. But a lot of people, when you say "feminism," assume that you're talking about the hardcore career aspects of feminism.
CA: You're going to a desert island, and you're allowed to take one food, one drink and one feminist. What do you pick?
JN: Water, gummy bears and Kathryn Wassermann Davis. She's pretty kickass (excuse my language) for someone her age, and got a super unusual education for a woman in the early 20th century.