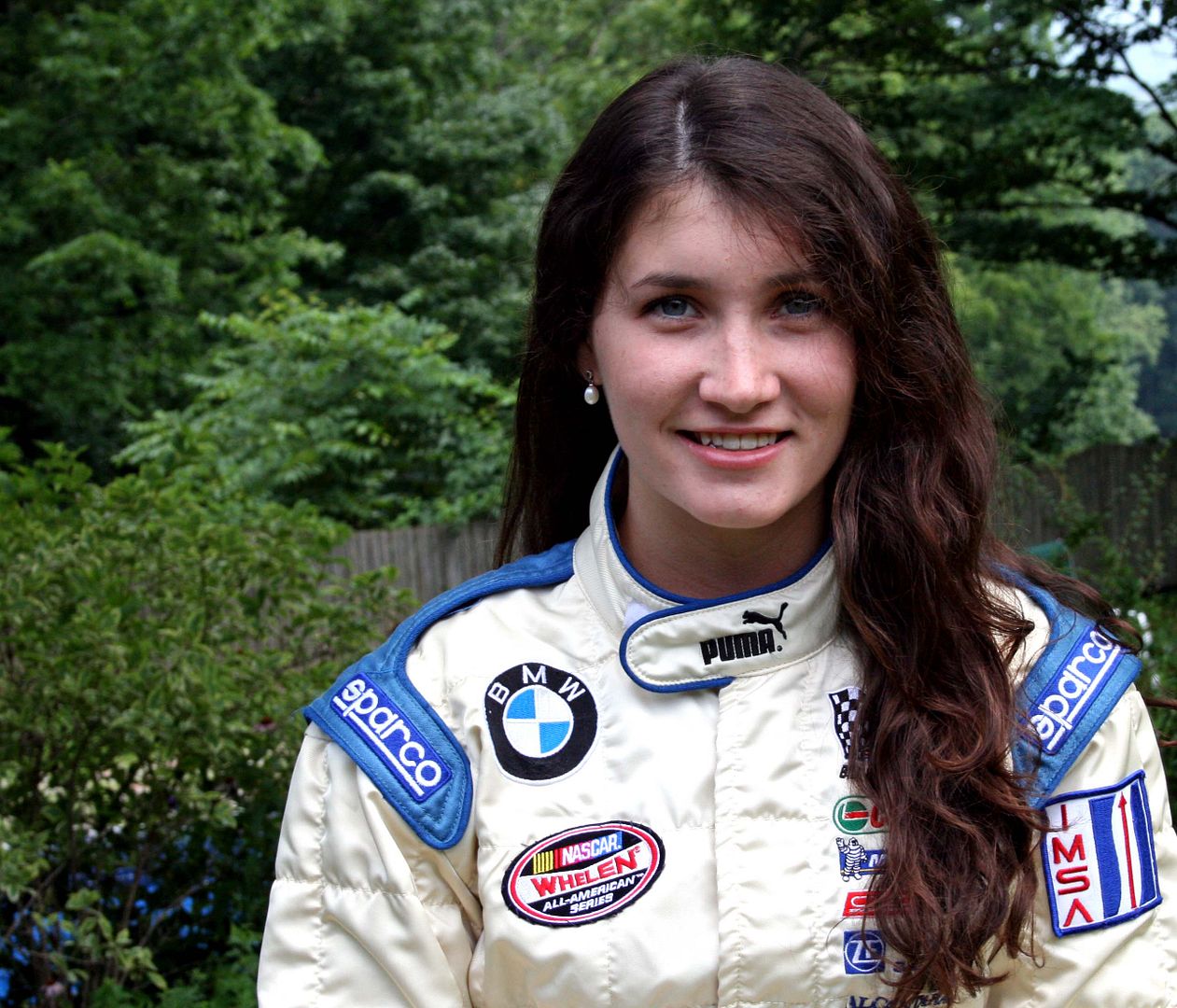 Julia Landauer is like a lot of college freshmen you know. She likes coffee, and reading blogs, and watching old movies. And she likes to drive really fast. But unlike a lot of college freshmen you know, she plans to drive really fast for a living, not just for kicks. Landauer is a stock car driver, as in, NASCAR. At twenty, Landauer has been racing for half her life, first in go-karts, and then in cars. She says her parents got her and her siblings started in the sport because it's one of the few sports in which competitors aren't divided by sex; there's no men's racing and women's racing, just racing.
Competitors might not be divided by sex, but there are still very few women in stock car racing. Landauer notes that last year, NASCAR saw its the highest number of women ever in one race, which was four. Thanks to the influence of women like Danica Patrick, the number of women in the sport is growing. But it's still small enough, Landauer says, that she knows each of the women by name. What's most important, in Landauer's view, is that girls and young women get support when they're just starting out, so that they have a chance of succeeding and sticking with the sport until they're old enough and good enough to secure sponsorship and recognition. Despite its distinct differences, in this way, stock car racing is like any other sport.
It was a thrill to speak with Landauer, a woman in the ultimate man's game – a five foot, five inch feminist middle finger to the stereotype that women can't drive.
And now, without further ado, the Feministing Five, with Julia Landauer.
Chloe Angyal: How did you come to get involved in stock car racing?
Julia Landauer: My parents both had an interest in racing driving; they didn't do it professionally at all, but they both had an interest. They thought it would be important to share that with me and my sister, and with my brother when he was old enough. There's a go-kart track about two hours outside of New York City, and we started racing there. They thought it was important because it's one of the only fields where females and males could compete on the same level. Girls race with boys, and there's no separate league for women. So we started that, and I immediately loved it and showed results right away, and I decided that I really wanted to pursue it, so I got into cars at age thirteen. At sixteen, I made the switch to stock cars, and it's been going well. It's definitely something I'm going to pursue, and after this year I'm going to be focusing a lot of my time on racing and taking some time off from school.
CA: Who is your favorite fictional heroine, and who are your heroines in real life?
JL: Maude from Harold and Maude. She's this really spunky eighty-year-old woman with a lot of chutzpah, and she's still fighting for big issues that need new attention, but she's doing it in her own little way. I think that was really important – no matter what, she's trying to make a difference. She doesn't give a damn what anyone else thinks. When I saw the movie for the first time when I was fifteen, I just fell in love with her and I thought, "When I'm eighty, I want to be just like her."
In real life, the first is Lyn St. James, who has also served as a mentor. She was one of the first women to race in the Indy 500. She was one of the pioneer women in racing, and since then she has founded the Lyn St. James Driver Development Program, and the Women in the Winner's Circle Foundation, which is all about helping girls be successful on the grassroots level. She raises sponsorships, raises exposure, and we get to go to luncheons and meet important people in the industry. She's always there for phone calls – she has this celebrity status but she's always available to talk and give feedback and mentor. She's been really crucial to my career. The other is Janet Guthrie, who was a pioneering racer, and I just thought she had so much grace when she was on the track. She stayed true to herself; she didn't try to fit in with the guys in a way that was unnatural, and she was really successful. I've met her in real life and she's just one of the coolest ladies.
CA: What recent news story made you want to scream?
JL: The Julian Assange case was really, really upsetting, mostly because it felt like rape was being used as a publicity stunt, which I felt was really inappropriate, especially since a very small percentage of rapists actually serve any time for their crimes.
CA: What, in your opinion, is the greatest challenge facing feminism today?
JL: I think everyone's perception of what a feminist is, is standing in the way. The older and more conservative interpretation, just from talking to people around the country, is that as a feminist you're aggressive and extreme and it has very negative connotations, when in reality, feminists are so much more than that. I think that educating the public as to what being a feminist means would clarify a lot of that. I think people – and I've been racing in various parts of the country – and there's a real taboo around being a feminist, which is outrageous, because we want equality, and I think a lot of people don't understand that, or don't care to.
CA: You're going to a desert island, and you're allowed to take one food, one drink and one feminist. What do you pick?
JL: Sushi, coffee, and my friend Miranda, who introduced me to Feministing.