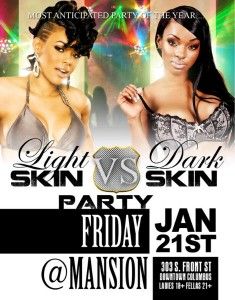 News has been circulating over the controversially-themed light-skin vs. dark-skin party in Ohio. I, for one, am thoroughly annoyed that the club space has been co-opted once again by profit-turners who insist on sucking the fun out of a Friday night with divisive themes. I just want a place that I can go where I can enjoy myself without having to contend with endless power dynamics.
It is hard to find a club these days that isn't capitalizing on the difference between two groups. This is most apparent when you consider the way clubs divide people along gender lines. Ladies are often either drinking for free, paying less to enter or are sexualized in the hand bills for the night's event. Combine this with the way women are discussed in the musical content blasting from the speakers and in the music videos screened throughout the evening and the result is more time spent on ignoring foolishness than dancing and having a good time.
Now, along with the taxing gender dynamics, some Columbus, Ohio promoters have decided to add dark-skin vs. light-skin into the mix? Young Truph on Twitter predicts that soiree will be a fail. But that still doesn't address the problem of club spaces becoming increasingly divisive. I am tempted to try my hand at rap music and write a remixed version of "Black and Yellow" entitled "Dark and Yellow" celebrating dark skin and light skin collaborations. But for now, fill this thread with your favorite club spot that really allows you to have fun. My absolute favorite is Marvin's in Washington, DC. Women are always dressed comfortably, the DJ plays musical hits that span the decades and the African diaspora, and the men are comfortably but not defensively masculine. But what about you? Where do you seek fun after a long week of professional/academic/personal stress?