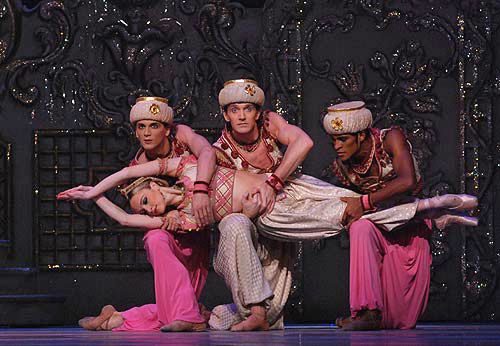 For as long as I can remember, the holiday season has been Nutcracker season. My mother grew up watching Balanchine's Nutcracker at the New York City Ballet, and made sure to introduce me and my sister both to ballet class and to the Nutcracker. As a result, even though Australian dance schools don't perform the ballet every year the way many American schools do, I grew up knowing and loving this ballet above all others. We used to visit our family in the US once a year, during the Australian summer holidays, which meant that we often had a chance to see Balanchine's Nutcracker for ourselves. Now that I live in New York, the world's best-loved production of the ballet is just a few subway stops away.
Every year, I get excited about The Nutcracker, and this year was no different. When the overture starts, the music brings tears to my eyes and this wonderful feeling to my stomach – it's joy and nostalgia and sorrow and excitement all tangled up at once. The ballet starts and the nostalgia and sorrow leave me. I laugh at the sight of fully grown men, all of them expertly-trained professional dancers, in mouse suits. And this year, I think I literally clasped my hands in joy at the climax of the Waltz of the Snowflakes, when twenty women in white tutus formed a cluster and danced as one, as fake snow swirled above the stage.
Then the first act ended, Marie and her Nutcracker Prince arrived in the Land of the Sweets, and the Sugar Plum Fairy called on her subjects to perform for their guests. And that's when I remembered:
The Nutcracker is really freaking racist.
Every year, I get excited about The Nutcracker. And every year, I spend large portions of the second act cringing and rolling my eyes, because I'm reminded all over again that this ballet contains some unbelievably offensive racial and ethnic stereotypes. The two most egregious of these, without a doubt, are Chinese Tea and Arabian Coffee.
Chinese Tea, in the NYCB version, is a dance for two women and one man. They are in what amounts yellow-face, with black wigs with the women and a long black braid for the man. They bow and shuffle and point their fingers in the air in the most jaw-droppingly outdated depiction of Asian people since someone cast Mickey Rooney in "Breakfast at Tiffany's." Because the NYCB production is the most widely-respected and loved production in the country, smaller productions often choreograph their Tea in a similar way. I haven't been able to find video of City Ballet's version, but you can watch the Royal Ballet's choreography here (skip to the 5-minute mark).
Then, there's Arabian Coffee. In its current incarnation, the City Ballet Arabian is a solo for a woman, who slinks balletically around the stage wearing harem pants, a midriff-baring top, a veil, and bells on her ankles. According to dance scholar Jennifer Fisher, this is par for the course in Nutcrackers around the country. "Coffee often features bare-chested, strutting men in gold turbans and jeweled bras and women in flimsy chiffon pantaloons," Fisher writes in her book Nutcracker Nation. "They tend to enact fantasies of the 'mysterious Middle East' that owe more to Hollywood than to Egypt or Iraq." According to Fisher, in the production choreographed by legendary dancer Rudolf Nureyev, Arabian includes a harem.
People don't like to hear this about beloved cultural institutions, but The Nutcracker is racist and that needs to change. As Fisher notes, people tend to get defensive when it's pointed out to them that the ballet trades in regressive and offensive stereotypes, and "the most common defense is historical precedent. In other words," Fisher writes, referring to the very first production of the ballet, which was staged by the Russian choreographer Lev Ivanov, "Russian imperialists thought up these portrayals of 'somewhere far away,' so it's okay to uphold the tradition." But Balanchine's Nutcracker, beloved and beholden to tradition though it is, has been changed before. When it was first staged in 1954, Arabian featured a bare-chested male dancer smoking a hookah. Ten years later it was changed to its current iteration.
It's time to change it again. City Ballet sets the standard for Nutcracker productions around the country, and it's time for that standard to be raised. It's time for a Nutcracker that appeals to sentimentality and nostalgia without appealing to outdated and offensive stereotypes. I don't want to spend another performance of the Nutcracker cringing and rolling my eyes – that's what Christmas dinner with my family is for.
Photo:Ballet Magazine