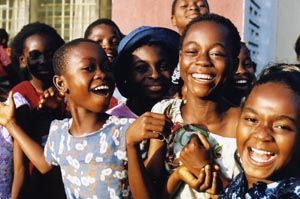 This morning, the U.S. Senate passed the International Protecting Girls by Preventing Child Marriage Act, an important bill which would help change the fact that every day girls as young as eight or nine are forced to marry men who are often decades older.
Worldwide, more than 60 million girls between the ages of 20 and 24 were married before the age of 18- often at the encouragement of their parents and often to much older men – with no say in the decision.
Because their bodies are not yet fully developed, child brides run a very high risk of complications in pregnancy and childbirth-in fact, childbirth is the leading cause of death for girls ages 15-19. Young brides also are more likely to experience gender-based violence, and are highly vulnerable to sexually transmitted infections, including HIV.
It might seem like passing this bill would be a no-brainer, but folks have actually been working really hard in DC for six years just to get this thing passed. It's a big day for women's rights groups on the Hill, and I congratulate them on this big win.
Check out this release from the International Women's Health Coalition for more on the bill and what you can do to make sure it gets turned into bona fide law.