I'm a sucker for a beautiful big art book. When I'm struggling with a piece of writing, it sometimes helps me to crack open something that is image-rich and just let my mind wander among the pictures for awhile. Plus, living in New York City, you'd think I would be at a museum every other day, but it's pathetic how infrequently I actually get to the cultural spots around town (the Brooklyn Museum's Sackler Center and the International Center of Photography being my favorites). In any case, here are a couple of art books from Prestel that I have recently been treasuring:
Hannah Wilke, by Nancy Princenthal
Wilke was, as the jacket copy explains "a defining presence in the community of women artists who emerged in the 1960s, determined to expose (and fix) the inequities of the fast-growing art world. She developed a bold visual language responsive to female experience; at the same time she was an unapologetic individualist who celebrated in her work her relationships with men as well as women and frankly explored the pleasures of sexuality." One piece, "A Living Sculpture Needs to Make a Living," features Wilke sitting on a stool a glossy platform, scattered with bills, holding a can in her hand and looking bored and broke. Relate much? Much of her work involves her own body; in her later years, she used her mother's body as the "object"–documenting her mother's battle with cancer, and her own feelings as healer and daughter. It's really provocative, powerful work.
Frida Kahlo: Face to Face, by Judy Chicago with Frances Borzello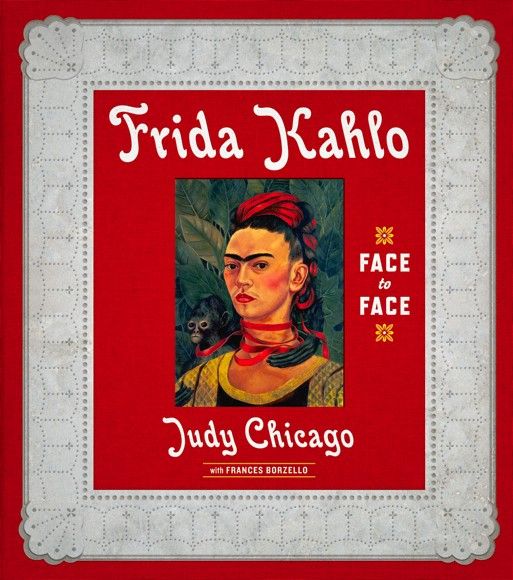 This artist, of course, need no introduction. Kahlo's work has haunted and inspired many a feminist mind and heart. What's especially exciting about this bright red and orange book, is that it's constructed through the lens of feminist art grand dame Judy Chicago (creator of "The Dinner Party," among other collaborative feminist art works). Frances Borzello, her partner-in-crime, is a British historian. They write, "Two of our goals for this book were to consider Kahlo's art without constantly referring to her biography as  way of explaining the imagery and to assess her complete body of work, something that rarely happens with women artists." The book gets away from what Chicago calls "Fridamania," and back to Kahlo's work for its own sake. To this end, they argue that "Kahlo's work prefigured many of the themes that would later emerge as the focus of a good deal of Feminist art."
Speaking of art, there is a really cool event coming up at the Brooklyn Museum's Sackler Center for Feminist Art on Sunday, November 14th, with some amazing women Civil Rights veterans. Info after the jump.