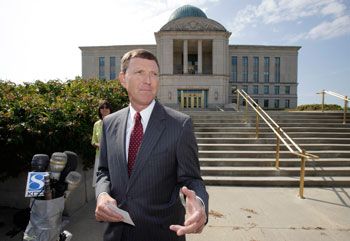 Bob Vander Plaats, a social conservative who led the movement against the reelection of three judges who ruled for legalization of same-sex marriage in Iowa last April.

Despite the fact that more LGBT candidates than ever before were elected yesterday, yesterday's election results conversely brought some ominous news for  same-sex marriage proponents.
Three Iowa supreme court judges who became the target of a conservative campaign against their reelection after ruling in favour of gay marriage last April have been voted out. It's the first time ever that an Iowa judge has failed to be reelected.
The campaign against their reelection included a so-called "anti-judge" bus tour, organized in part by the National Organization for Marriage (NOM), the lovely anti-marriage-equality organization you'll most likely remember for their unintentionally hilarious  "Gathering Storm" commercial (which spawned many parodies) and their "One Man, One Woman" bus tour.
The failure to re-elect these three Iowa judges sends a scary and strong message about the viability, or lack thereof, of pro-marriage equality ideals and rulings in today's political context. One of the conservative leaders against the judges, Bob  Vander Plaats, has openly acknowledged that he is trying to send a message about the accountability of judges to "the people" in a direct attempt to politicize matters of justice and equality.  Not only can judges redefine marriage, he says, "they can redefine who should pay taxes and how much, who can own and carry a gun and whose private property rights get protected — or do not."
I'm personally terrified and saddened by the choice of Iowa voters to buy into the homophobic fear-mongering, and am hoping they haven't begun a larger trend. The New Yorker's Jeffrey Toobin predicts that "the movement to repeal Don't Ask, Don't Tell by Congressional vote may be another casualty of last night's election." Let's all redouble our efforts to make sure that's one prediction that doesn't come true.