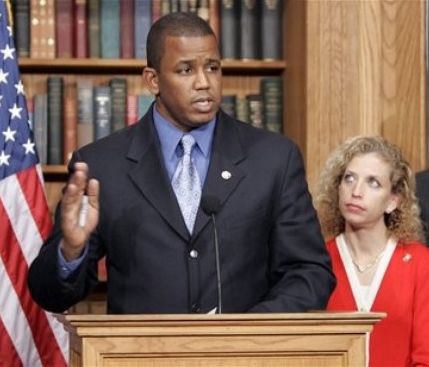 Florida Senate candidate Kendrick Meek, who lost in yesterday's election.
By now, many of you have heard the bad news that yesterday's elections didn't go so well for Democrats. Though they were able to hold onto control of the Senate, Republicans took the House and expanded their presence in the Senate.
While zillions of news outlets will be offering their analysis of the election results, I wanted to raise awareness around the rather unbelievable fact that the next United States Senate will not have ONE African-American in its ranks.
As reported by CNN's Soledad O'Brien, all three black Senate candidates, Kendrick Meek (D-FL), Alvin Greene (D-SC) and Mike Thurmond (D-GA) have lost their bids. The only incumbent black senator, Roland Burris (D-IL), is retiring.
Only six black senators have served including Burris: three Republicans and three Democrats, Carol Moseley Braun (D-IL), Edward Brooke (R-MA), Blanche K. Bruce (R-MS), Hiram Revels (R-MS before 1874, D-MS after 1874) and current President Barack Obama (D-IL).
There have been 118 voting members of Congress who are African-American. This year the GOP has 14 African-Americans on the ballot while there were 41 African-American Democrats in Congress of which most ran in majority black districts. The largest number of black Republicans in Congress since Reconstruction has been a whopping two.
In a tidbit of good news, Alabama sent its first African-American woman to Congress with the election of Terri Sewell in the state's 7th district. She is a Democrat. (Hooray!) Also, more LGBT candidates than ever before were elected yesterday.
On the flip side, insurance company owner Tim Scott earned a comfortable win in his district, becoming the first black Republican congressman from South Carolina since Reconstruction. I'm sure Michael Steele is rejoicing.