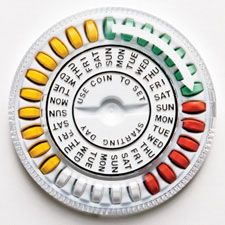 You may have been told your birth control pills are leading to high levels of estrogen pollution in our water supply. The American Life League has built a campaign to stop women from taking birth control by arguing that it has detrimental environmental impacts. The campaign plays to fears about the decline of masculinity, except this time we're talking about unacceptably feminine fish.
According to a study from UC San Francisco, only a small fraction (less than 1%) of estrogen pollution is actually caused by birth control pills. Our farming system is a much much bigger culprit. But of course we jump to blame women taking care of their own reproductive health instead of a huge industry.
Estrogen pollution isn't a non issue. Beyond absurd fears about masculinity in fish, this pollution does disrupt reproduction in some species and estrogen in drinking water has been linked to fertility problems and cancer in people. But putting the blame on birth control pills is apparently an inaccurate scare tactic, and linking this issue to people's fears about gender non-conformity is just insulting.