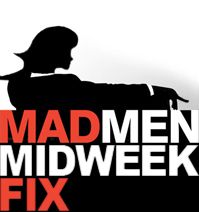 During the fourth season of Mad Men Feministing writers will offer some of our thoughts on feminist moments, scenes, and themes in the new episodes in order to start a discussion about these topics in our community. This is our take on the season finale (a few weeks late). *WARNING: Lots of spoilers follow.
Joan gets a promotion without a raise. "Well, it's almost an honor."
Ah, yes! The now time-honored tradition of the meaningless promotion. -Ann
Ken won't use his father-in-law to be to reach Dow Chemical.
Go Ken. "Cynthia's my life. My actual life." And all the others look at him blankly. -Vanessa
This moment was so interesting. I can't help but wonder if he'll pay for this "separation of work and life" attitude later on in the show. -Lori
This is also a question of gender. Ken sees his relationship as something that is important to him, not just something to build, utilize and scaffold his career. This is not what "men" do, so it will be interesting to see how it plays out. Is this because he knows off the bat that it is not something his wife would go for? Probably and also because he respects his relationship. -Samhita
Carla lets Glen say goodbye to Sally. Betty fires Carla.
*Head explodes* I'll admit was screaming not-so-pretty-words at the TV when Betty fired Carla. Unbelievable. What's interesting is that Betty fired Carla, who obviously knows Sally better than her mother. Betty also hates Glen because he knows Betty too well. Yes, he's a reminder of Don, but I think more than anything he's a reminder of her unhappiness and desperation that she disclosed to Glen back when. And now being with Henry, nothing has changed. -Vanessa
Agreed, Vanessa, that it's not that Betty is creeped out by Glen. She's embarrassed because she opened up to him in a real way. It's also really interesting how they've handled the friendship and slight flirtation between Glen and Sally. It's so innocent, really. I've been kind of surprised that they haven't shown them trying to kiss or anything. -Ann
What a headdesk moment it was watching Betty fire Carla, the writers really want us to hate Betty. And now Henry is at his wits end. What is interesting is that Betty is emotionally a child, connecting with Glenn previously, wanting to continue seeing the child psychologist, being so irrational with Sally and then with Carla. There have been glimmers of maturity and self-reflection through out this season only to return to her being childish and impatient. I think Betty is a product of the old narrative that works no longer, so it will be interesting to see where this character goes. Also, I love the story of Glenn and Sally and how insightful they have both shown themselves to be.  -Samhita
Joyce and the model.
I know we're supposed to be scowling or laughing at Harry stumbling all over himself in this scene. But isn't Joyce doing essentially the same thing — albeit in a much more dignified manner? Fawning over this model and going out of her way to get her a new job because she's beautiful? -Ann
Harry is goofy, it is funny. -Samhita
Don and Megan sleep together. Don needs to know where it's going.
The woman's OK with casual and Don needs more? Damn, our lead character's getting older and the world just keeps moving forward. Hello sexual revolution! -Jos
Yeah, that was weird. -Samhita
Sally knocks over a milkshake. Don yells, Megan doesn't.
This is why I'm not as concerned as Joan and Peggy that he'll try to make Megan a copywriter. If this scene showed us anything, it's that he sees her as a maternal figure — for both his kids and himself. She's attractive for him because she seems to be able to control the domestic sphere in a way Betty no longer can — or maybe never could. -Ann

I agree. But, I actually liked this scene because the way those kids are being parented is stressful for me and Megan does have a effortless disposition which is refreshing. But I think she is the new, almost-modern, but not quite, modern woman that is able to handle motherhood but also want a career. I think she is supposed to represent an in-between, between Faye and Betty, but more ultra-feminine French speaking baby-sitting mother figure than business woman to be. -Samhita
Don and Megan get engaged.
I thought Amanda explained Don's newfound "love" for someone he barely knows brilliantly; not only is she someone he can forget about his real self with, but to go back to what his family life was in the beginning. Megan is who Betty was in the beginning before the life of housewife drudgery wore her down. Betty spoke Italian; Megan speaks French. So perfectly convenient. -Vanessa
All I could think about during this scene was Faye, and how surprised and devastated she was sure to be when she heard the news. I don't know if the writers intended this, but I identified primarily with her in this episode. -Lori
I agree with Megan as Betty 2.0. What makes this interesting is the impending rise of the youth counterculture and the summer of love. Megan's considerably younger than Don, and her ambitions are different from Betty's in a way that fits her generation – she wants to be a copywriter, not a model. The youth demographic is about to get hip to manipulations of the world's Don Drapers. I wonder how closely Megan will follow Betty's feminine mystique story line – I think the difference in age and cultural context (and yeah, the fact that characters on this show often represent systems of oppression and larger cultural shifts) will lead her to push back against Don in ways he's not prepared for. -Jos
This hurt MY feelings. It was just sad, stupid, annoying and everything I already hate about the fantastical nightmare that is heteronormativity. -Samhita
Joan and Peggy's conversation.
TV gold. -Lori
It felt so good to see them bonding after Peggy's last awkward attempt at workplace solidarity. Nothing like both getting shat on to really bring two people closer together -Ann
I loved this scene so much! Finally they can connect as equals, and it's because of their shared experience – Peggy finally gets what Joan had to learn a long time ago, that no matter how much they fight they'll just keep coming up against a system designed to keep them down. This felt like for real feminist talk – it reminded me of when the Feministing crew gets together! -Jos
So true! This scene was just so full of win. -Vanessa
Don tells Faye. Faye says she hopes Megan knows Don "only likes the beginning of things."
Faye's comment was spot-on and falls directly in line with what Don is looking for in Megan; the perfect accommodating housewife and mother figure that he had in Betty in the beginning, before reality set in. -Vanessa
This is such an on-point critique because in many ways it's all of us. We're all trying to get to that maturity level where we crave stability and value the people already in our lives, but sometimes we have a moment where we can't help but feel the grass is greener. -Lori
Joan and Greg talk about the baby.
Seems like this is Joan's secret act of rebellion in the midst of a situation in which she doesn't have much control. -Lori
I didn't see it as a rebellion so much as an acceptance — this, in many ways, seemed to be the path of least resistance. Totally understandable given all she's been through.  -Ann
I disagree with the reaction this story line's gotten from some e-feminists. Yes, it's way too common for women to not even consider abortion or decide against one in pop culture. Except the show made a point of telling us Joan has had two abortions before. And Mad Men has consistently showed that difficulties can arise when an unintended pregnancy is carried to term. Have we decided that the feminist position is all unintended pregnancies should end in abortion? Because that sounds to me like telling women what they should do with their bodies under certain circumstances, a pretty anti-choice position actually. Joan had very clear reasons for deciding to keep this pregnancy, reasons the show pointed out all season. She's getting older and wants to have at least the image of the perfect domestic life. She's stayed with Dr. Rapist even though he's both a public and private failure as the perfect husband (remember the accordion scene?). And now she's keeping the child because she's concerned this could be her last chance. I think it's a very understandable choice, and it was clearly a decision made by someone who's also been able to decide abortion. I think that's a realistic depiction of how making this decision can play out, not the typical Hollywood cop out. I'm looking forward to the story line about Joan's struggle between raising a child and keeping SCDP running. Especially since I used to think Dr. Rapist would die in Vietnam, but now suspect he'll return shell shocked, cynical and bitter about the American Dream Joan's trying to create for them. -Jos
Totally saw this coming! And what Jos said…-Samhita
Don and Betty share a drink.
They are essentially toasting the fact that they are each living (or about to start living) exactly the way they were before the divorce — though with different partners now. History repeating. -Ann
YES. -Vanessa