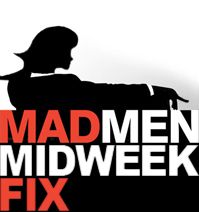 During the fourth season of Mad Men Feministing writers will offer some of our thoughts on feminist moments, scenes, and themes in the new episodes in order to start a discussion about these topics in our community. This year we'll help you get through the middle of the week wait for the next episode. *WARNING: Lots of spoilers follow.
Don lets Faye stay in his apartment alone.
Remember Don's secret Dick Whitman drawer? Letting Faye stay in his apartment feels like a big change for Don, a shift away from his very secretive nature. Can you imagine him building relationships with women based on trust and honesty? -Jos
No, I really cant. Besides, I think Betty might snag him back before that happens. -Vanessa
Joyce's lesbian hijinks.
Rowdy! -Samhita
Love Joyce. -Vanessa
Peggy and Abe debate civil rights vs. women's rights. Peggy: "I have to say, most of the things Negroes can't do, I can't to either…and nobody seems to care." Abe jokes about "a civil rights march for women."
Why did they do this? Just to infuriate my intersectional sensibilities? I think Peggy is right actually, that at this moment people weren't as focused on women's rights as they were on black civil rights. But segregation was specifically race-based and needed a specific response. What would later become the women's movement started from this recognition of lack of attention to the specific ways that women are segregated in society, but ended up reproducing a lot of the inequalities in the civil rights movement by marginalizing black women. Its like, I feel her and I think what she said was a little bit racist because she says, "*they* can get where I am by working hard," which as you know, is that bullshit line people use to justify the idea that people can just overcome racism, as opposed to it being a structural problem. -Samhita
On the one hand I'm so sick of hearing social justice issues framed as a zero sum game. On the other, this is really real, and it makes sense Peggy would feel a tension between supporting the civil rights movement, which she's not very connected to, and fighting for her own rights. One theme that's stood out for me all season is how our main characters see struggles for racial justice from a distance, without much personal connection. Peggy actually got moved on civil rights, and I think it was by seeing the links to her own experience of being kept out of the boy's club. -Jos
Sally runs away to visit Don.
I was getting weird vibes about the relationship between Don and Sally in this episode. When she came out of the room in his t-shirt and offered to make him French toast, it almost seemed like she was another one of his lady friends, albeit one he has a particular soft spot for. -Lori
Agreed Lori, especially after Sally feeling abandoned and waiting up for her father earlier in the season. She's learning patterns of interaction with men from a huge sleazeball, basically. -Jos
Don has Faye deal with Sally. Faye calls him out.
Shorter Faye, "Look, don't put your children on me, grow a pair." I would have liked this more if it wasn't so subtle and it didn't end up being about how she is really insecure about how she is bad with kids, but it is just a lifestyle choice. But I realize they are trying to make it realistic and that is probably realistically how that character would feel in that time in history. -Samhita
Miss Blankenship dies. Roger: "She died the way she lived.  Surrounded by the people she answered phones for."
This was cute. And Burt Cooper's reaction was touching, especially since they had the scene earlier with them doing a crossword puzzle together. And the whole thing was comedy really, pure deadpan. -Samhita
"It's a business of sadists and masochists, and you know which one you are." I heart Miss Blankenship, going to miss her over-the-top-ness. Hilarious death scene! -Jos
Roger and Joan get mugged, have sex in a stairwell.
Why did it have to be a black guy?? (oh c'mon I had to ask it) -Samhita
Word! As for Roger and Joan boffing, while I don't find him very sexy, this scene was sorta hot.  -Vanessa
Peggy suggests Harry Belafonte for the Fillmore Auto Parts jingle. Don: "Our job is to make men like Fillmore Auto, not make Fillmore Auto like negroes."
Peggy starts to make a connection between her own oppression and the oppression of blacks. Three cheers! Don's attitude is a very current attitude in advertising, 'who cares if what we are advertising is bad for the world, our job is not to save the world…'-Samhita
Joyce: "Men think they are like soup… Women are expected to be the pots… Who wants to be a pot?"
"…So Peggy, let's make delicious soup together." -Joyce. Cornball dialogue, but whatever, if Joyce turns Peggy gay she wins everything. -Jos
Yeah, what Jos said. -Samhita