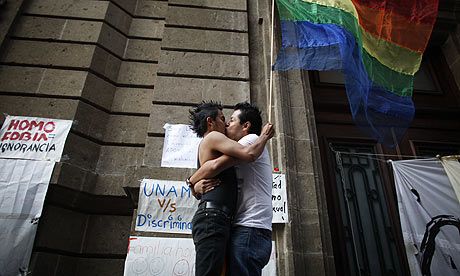 The Applied Research Center and the Arcus Foundation just released a report called "Better Together: Research Findings on the Relationship between Racial Justice Organizations and LGBT Communities. It is a result of surveys and interviews with more than 80 organizations and 30 key leaders. The announcement explains:
There are damaging perceptions about LGBT communities and racial justice groups, specifically that LGBT identity and politics are for white people and that communities of color are disproportionately homophobic. 'These myths harm LGBT communities of color and continue to be perpetuated by divisive, politically motivated platforms such as the Proposition 8 Campaign,' says Rinku Sen, President and Executive Director of ARC.
It's nice to see more analysis of the activism happening at these intersections by two such respected and thoughtful organizations. Clearly the mainstream media's depiction of these issues are often reductive, but it is even more saddening that inter-movement politics and prejudices have often prevented folks from working side-by-side who obviously have shared interests and a lot to teach one another. I hope this report goes a long way in helping demystify some of the stereotypes and shedding light on some of the insidious and unfair power dynamics, and point the way forward to more collaboration and cohesion.