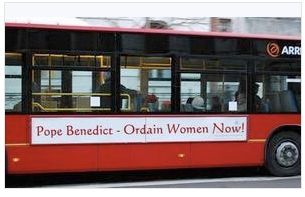 Now this is what I call some kick-ass activism.
We all know that Pope Benedict ain't too much of a fan women priests. In fact, he's ordered the excommunication of any women involved in being ordained as well as recently updated Vatican documents implying the ordination of women is just as grave a sin as child sex abuse. So ole' Bendi can't be too surprised to find The Catholic Women's Ordination group took it upon themselves to give him a proper welcome when he's in the UK next month — with bus posters calling for the ordination of women:
The group has paid 15,000 pounds for 15 buses to carry the message "Pope Benedict – Ordain Women Now!" for a month.

"We do not want to be disruptive, but I think the church has got to change or it will not survive," CWO spokeswoman Pat Brown told Reuters.

"I am quite hopeful at the moment because I think the church is in disarray."

Set up in 1993, the CWO describes itself as loyal to the Roman Catholic Church, campaigning from within for inclusivity and the ordination of women.
Do I think it will change the Pope's mind on the issue? Hell no. But it should raise some eyebrows among the rest of the folks who see it — and that could be even more powerful.