In the midst of one of the hottest NYC summers on record, it seems folks in 2010 are revisiting the age-old question: should women be allowed- both legally and socially-  to remove their shirts in public, as men are?
This is a particularly popular topic these days. Jezebel has been tracking the "Go Topless" Equality movement in LA, where more than 200 people showed up over the weekend to protest gender inequality in laws about public nudity and toplessness. (They also expose some of the sketchy origins of this movement).
And women aren't the only ones pushing for new norms in the realm of toplessness.
This LA Times article explores the phenomenon of the "bang ye" — or exposing grandfathers, Chinese men who raise their shirts in an attempt to stay cool. According to the paper, "the practice is increasingly considered rude" but is still on the rise.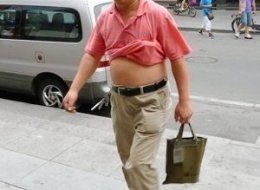 While it may not seem like the most pressing feminist issue of our day, I have to wonder if it's small things like these where big gains can be made. How many of us haven't felt a tinge of jealousy on a hot summer day when our male companions can take off their shirts to cool down without being automatically sexualized or scorned (or arrested!)?
As Kate Kelleher over at Jezebel puts it:
"…we do believe making bare breasts legal is an important step toward stopping the unnecessary and seemingly inescapable sexualization of the public female form. There is nothing obscene about boobs, and there is nothing that makes our nipples any more offensive than men's."
Word. But is this a fight worth fighting? Is it a semantics battle or one that would represent an important gain? And does the movement for equal rights to toplessness ignore fundamental differences in the male and female bodies that require some sort of legal and social acknowledgement?