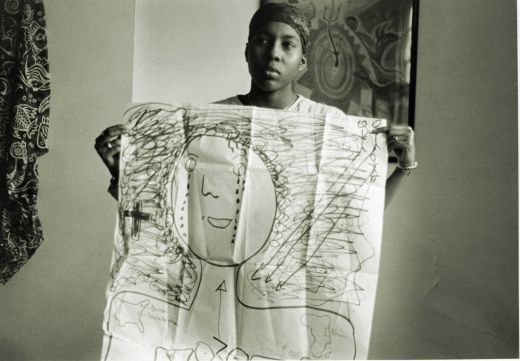 Last month,Vanessa and  I made an appeal on Feministing for folks to contribute to the Girl/Friends program in Chicago, IL. Just a reminder, the program combines sexual health education, art therapy, and positive leadership development to empower girls to become leaders in their community. But most of all, it serves as a healing space for girls who have survived or witnessed violence.
The program has exceeded funding goals and has been underway. Check out this recent article at WBEZ 91.5 by Natalie Moore of Deconstructing Tyrone Fame. Here, Moore documents the headway this program is making in enabling girls to come to terms with the devastation of violence in their lives. This is Cherrish's story:
CHERRISH: Growing up, watching my mother get abused by her boyfriend. Father wasn't really around because I guess he had other priorities. I was molested as a child.

High school senior Cherrish is tall, brown-skinned and has almond-shaped eyes. She wears a pair of funky zipper earrings. Cherrish says coming here this summer has helped with what she calls her "attitude problem."

CHERRISH: I usually just keep things bottled up inside. I wouldn't talk about it or whatever but now I'm more open. During the program I've taken some art therapy sessions and they showed me how to show the way I feel through art and paintings. And since I really love to draw and paint, whenever I feel sad or down, I feel like I can't handle certain situations, I paint or draw.
What is your art therapy? Or what activities do you do to cope with dark days in your life?